Why Isn't Ivan Reitman Directing Ghostbusters 3?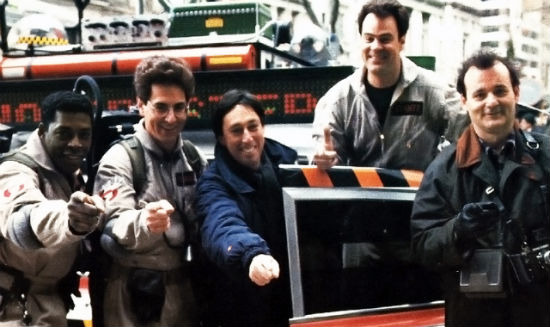 Ghostbusters 3 has been trying to make its way to the big screen for years now, but for whatever reason Sony has yet to give the threequel a greenlight. Following the passing of Harold Ramis, Ghostbusters series director Ivan Reitman stepped down for the prospective directorial duties, instead stepping into a producer role. But why isn't Ivan Retiman going to direct Ghostbusters 3? The comedy filmmaker answers the question: "Why Isn't Ivan Reitman Directing Ghostbusters 3?"Ivan Reitman explained to SuperHeroHype why he isn't returning to direct Ghostbusters 3:
"I am very involved. I'm a producer of the film. I wasn't giving it all up. I suddenly felt that Ghostbusters didn't necessarily need me as a director, at least I didn't need to direct Ghostbusters, let me put it that way. Having done the other two and with the passing of Harold and with Bill Murray seeming disinterested being in it, I thought it was better for me just to produce it and to make sure we're going to have the quality and style of what is appropriate for another version of that film. But the franchise could benefit from somebody else's point of view. I've done it twice before and it will be great to get somebody else to lend a hand as well."
Sounds like to me that his heart isnt really in it anymore, and why not have some new blood at the helm to bring a new perspective and some excitement to the project. In March, Deadline ran an extensive interview with Reitman, in which he discussed the long development of the threequel:
The first [script] was done by Lee Eisenberg and Gene Stupnitsky, and me, Harold [Ramis] and Dan [Aykroyd] helped them on it. It was a really good script, but then it became clear that Bill really didn't want to do another Ghostbusters and that it was literally impossible to find him to speak to for the year or two we tried to get it going. When Bill finally...well, he never actually said no, but he never said yes, so there was no way to make that film. We decided to start over again, and I started working with Etan Cohen, with Dan lending a helping hand. Harold got sick about three years ago, and we kept hoping he would get better. I kept pushing forward on the Etan Cohen and we now have a draft that is very good, that the studio is very excited about.
That version included the original Ghostbusters team members in "very minor roles". That interview is worth reading if you haven't done so already. Last we heard, Sony was courting Bridesmaids helmer Paul Feig to direct an all-female team reboot/sequel of Ghostbusters.