Listen: Rian Johnson Talks 'Star Wars' Excitement And Doing Practical Effects Right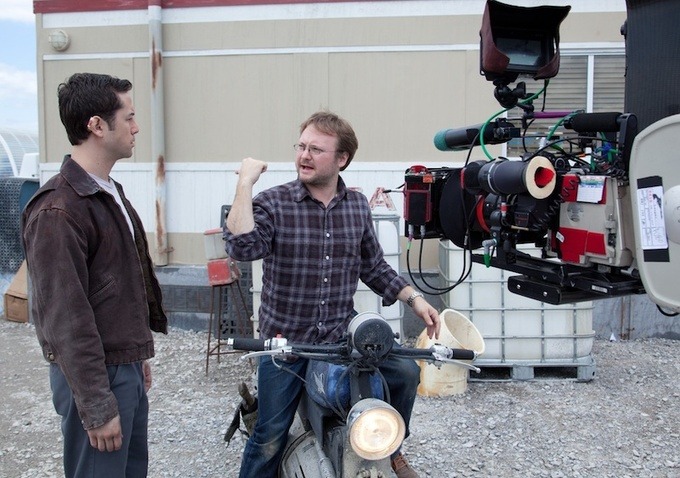 Today has been full of talk about Star Wars Episode VII, but for a moment let's look even further into the future, towards Star Wars Episode VIII. We assume the movie will be released in 2017, and Rian Johnson (Brick, Looper, Breaking Bad) is already set to write and direct. Johnson has been super-quiet so far about the job, and we wouldn't expect anything else. But he appeared on a Grantland podcast to talk about a wide variety of topics. Naturally, Star Wars came up. After the break, find the podcast and get some of Rian Johnson's comments about Star Wars Episode VIII.
Johnson appeared on the Girls in Hoodies podcast, and the Star Wars talk begins at roughly the 35-minute mark.
Asked about the job, Johnson said, "The most surprising thing is just how not scary [it is] and how much fun [it is]." And, of course, he couldn't elaborate much. Right now, in fact, 
It's boring to talk about, because the only thing I can really say is I'm just happy. But I don't have the terror I expected I would, at least not yet. I'm sure I will at some point.
As far as developing the new films goes, one of the hosts comments that the new development process seems to "have a bit more air in it," to which Johnson says,
Yeah, I think that's true. And coming at the time it does where, like if there'd been no Star Wars movies since Return of the Jedi there'd be a lot more pressure. B ut the fact we've had the prequels, we've had the tv shows, we've had Angry Birds Star Wars — I play it all the time!
He's been on set for Episode VII "a little bit," and says,
...they're shooting in London, which is why i just was in London, for reals. But yeah, I think I'm definitely going to go back. Visiting a set you're not working on, though, I always feel kind of uncomfortable. Not because anyone makes you feel uncomfortable at all, but if you do't have a job on the set, its a really strange place to be. But if there's any set in the world to be on...
And with respect to the set building and seeing a huge X-Wing on set he enthuses,
They're doing so much practical building for this one, its awesome. They're doing it all right, yeah. ... I think people are coming back around [to practical effects] yeah, it seems like there's a gravity pulling us back towards it. ... I think more and more people are hitting a critical mass as far as the CG-driven action scene, lending itself towards a very specific type of action film, where physics go out the window and it becomes so big so quick, and I probably sound like a grumpy old man talking about it. I do wonder, kids are growing up watching those and that's the thing they love now. So I don't know if it's a generational thing.
There's a lot more, and it's a great podcast overall, so listen at the link above.