Pixar's 'The Good Dinosaur' Has Been "Completely Reimagined"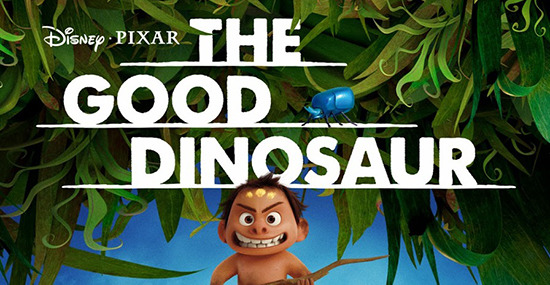 Until a year ago, Pixar's film The Good Dinosaur was planned as the studio's big offering for 2014. But in late August 2013 original director Bob Peterson exited the production, and the Pixar Brain Trust stepped in as "interim co-director." The Good Dinosaur moved to November 2015, leaving Pixar without a film this year.
We still don't know who the credited directors will be, though as far as we know Pete Sohn (originally Peterson's co-director) remains part of the production. Now there's a report that suggests changes to the film were extensive. John Lithgow, who provides the voice for one of the film's characters, says the movie has been "completely reimagined." 
When we saw a teaser poster for the film late last year, this was the plot:
"The Good Dinosaur" asks the generations-old question: What if the cataclysmic asteroid that forever changed life on Earth actually missed the planet completely and giant dinosaurs never became extinct? In theaters May 30, 2014, the film is a humorous and exciting original story about Arlo, a lively 70-foot-tall teenage Apatosaurus with a big heart. After a traumatic event rattles Arlo's tranquil community, he sets out on a quest to restore peace, gaining an unlikely companion along the way—a young human boy named Spot.
And now? Maybe not so much. Collider talked to John Lithgow, who revealed that some big changes have been made:
I recorded the entire role in Good Dinosaur.  They have now dismantled it and completely reimagined it, and it is a fantastic new story.  So I'm gonna record again on it within the next month.  Don't worry.  It's coming and it's gonna be better than I ever imagined.
OK, that's big, and more sweeping than we'd thought at first. There's also one more point from Lithgow:
But me and Frannie McDormand, we're still playing Momma and Poppa dinosaur.
Does that mean other actors have changed? Last year, the cast was John Lithgow as the father of a family of farming Apatosaurs, and Frances McDormand as the mother. They're clearly still part of things. But what about Bill Hader and Neil Patrick Harris, who were brothers Forrest and Cliff, Judy Greer as Ivy, and Lucas Neff as the lead character Arlo? At this point, we don't know.
We'll likely get more info about The Good Dinosaur as we head into fall and winter.