'Community' Season 6 Teaser Promises To Be "Better, Stronger, Faster"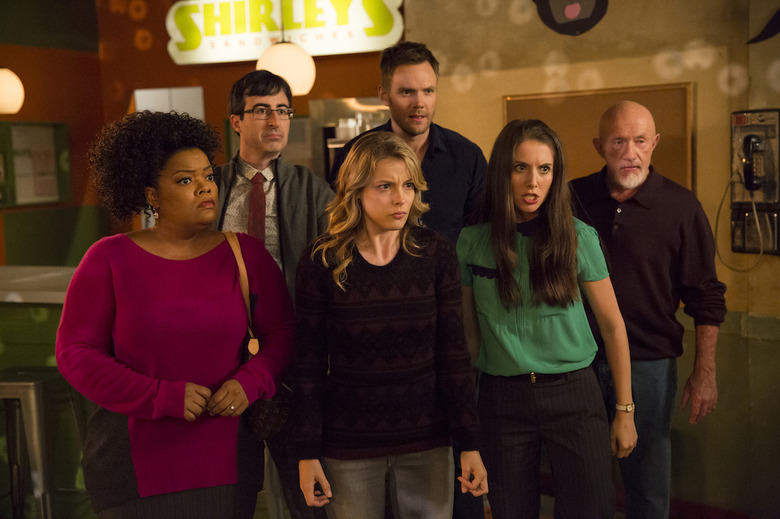 At one point, "six seasons and a movie" sounded like an amusingly preposterous goal. After all, Community that found itself on the brink of cancellation every single year. But now the first half of the prophecy is about to be fulfilled thanks to Yahoo, and Yahoo would really like to remind you of that fact. Especially that last part.
The first Community Season 6 trailer has hit, and while it's light on new footage it's heavy on the hype. According to the video, this new season will be "better, stronger, faster." Watch it after the jump.
Well, Community Season 6 certainly isn't lacking for confidence. "Gentlemen, we can rebuild it!" the trailer declares. "Better than it was before. Better. Stronger. Faster." In an old clip, Troy and Abed spell it out: "You tried to destroy us, but you only made us more awesome."
Best of all, Yahoo promises that Community's viewership problems won't plague it anymore. "Ratings?" it scoffs. "Where we're going, we don't need ratings."
The path to Season 6 hasn't been an easy one for Community. Its behind-the-scenes feuds were well documented, as were its ratings struggles. Series creator Dan Harmon was fired from the show after Season 3, only to be brought back one season later.
NBC cancelled the series in May, following the conclusion of Season 5. Early talks with Hulu looked promising, but ultimately went nowhere. Then, in June, Yahoo came to the rescue. 
While the Community Season 6 trailer largely devotes itself to looking back, not all seasons are treated equally. Season 4 — the Harmon-less one — is represented only in the form of a noxious green gas coming in through the vents. At least Season 6 is bound to be better than that, right?Community Season 6 has not yet set a premiere date.