New 'The Babadook' Trailer Is Scary And Spectacular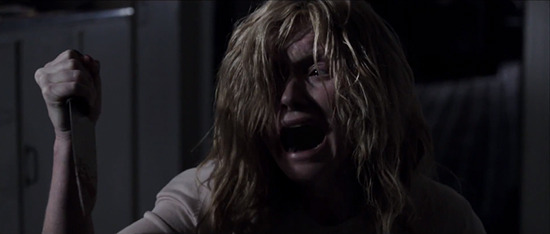 The Babadook is a lean and mean horror film out of Australia, and this new Babadook trailer is just perfect. The film was one of the best at Sundance this year, and remains one of my favorites of the year so far.
The story centers on Amelia, a widowed mother, and her troubled young son Samuel. The kid is spinning out of control, and his mom is at her wits' end. A strange storybook provides a focal point for Sam's nightmarish hallucinations, and things get intense as Sam's visions start to connect with Amelia's own fears.
Essie Davis and Noah Wiseman are simply terrific in the two lead roles, and writer/director Jennifer Kent has cooked up a story that is shockingly scary and built on solid characters. Take the shocks out of this movie and you'd still have a great story. With them in, The Babadook is the must-see horror film of 2014. Watch the trailer below.
Turn down the lights and turn up the volume before watching this one.
The Babadook opens on October 24 in the UK and November 28 in the US. Trailer via Total Film.
Six years after the violent death of her husband, Amelia (Essie Davis) is at a loss. She struggles to discipline her 'out of control' 6-year-old, Samuel (Noah Wiseman), a son she finds impossible to love. Samuel's dreams are plagued by a sinister monster he believes is coming to kill them both.
When a disturbing storybook called 'The Babadook' turns up at their house, Samuel is convinced that 'The Babadook' is the creature he's been dreaming about. His hallucinations spiral out of control and as he becomes more unpredictable and violent, Amelia is genuinely frightened by her son's behaviour.
But when Amelia begins to see glimpses of a sinister presence all around her, it slowly dawns on her that the thing Samuel has been warning her about may be real."