Rewatch The Dancing Groot Scene From 'Guardians Of The Galaxy' [VIDEO]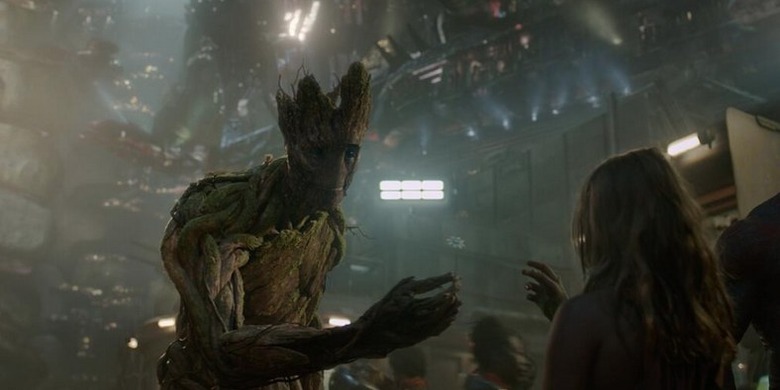 At present, there are two kinds of people in this world: those who are madly in love with Groot, and those who haven't seen Guardians of the Galaxy yet. If you're in the latter category, we suggest returning to this very spoiler-y post after you've shifted into the former category. But for everyone else, have we got a treat for you.
A Guardians of the Galaxy clip featuring Groot's final scene in the movie has just hit the web, as have some comments on that scene from director James Gunn. Who, as it turns was the true inspiration behind Groot's sweet moves. Get all that after the jump, plus some instructions on how you can make your own you-know-what. (Again, major spoilers lie ahead. Don't say we didn't warn you.)
Well, Yahoo has just debuted that exact Guardians of the Galaxy clip. Rewatch it below.
Although Vin Diesel played the adult Groot through the combination of voice acting and motion capture, Gunn said baby Groot's moves were all his own.
Baby Groot dancing is 100 percent me. I was too embarrassed for anyone to be there, so I made everyone leave the room and I set up a camera and I videotaped myself dancing. Then I sent the video to the animators and had them animate over that. I begged them not to leak the video!
As Gunn clarified in a different interview, he was "motion referenced," not motion captured, but the final animation was close enough to be recognizable. "Two of my closest friends came to an early screening and said 'Hey, I recognize those moves! That's you dancing isn't it?!'" he recalled.
Originally, Gunn had planned to include the scene during or after the credits. "But after we shot it, it worked so well I wanted to put it at the actual end of the film so none of the audience would miss it," he explained.
The scene proved even more popular than Gunn had predicted, as evidenced by the droves of Marvel fans asking for their own dancing Groot toys. While the company has promised that one will hit shelves eventually, some folks are getting impatient. Like Patrick Delahanty, who just made his own.
Not bad, right? In case you'd like to one too, Delahanty has also provided helpful step-by-step instructions on Facebook. All you need is one of those dancing flower toys, some felt, twine, paint, wire, paper, clay... on second thought, maybe the less crafty among us (like me) are better off waiting for the official merch.