Watch Stop-Motion 'Usagi Yojimbo' Short Film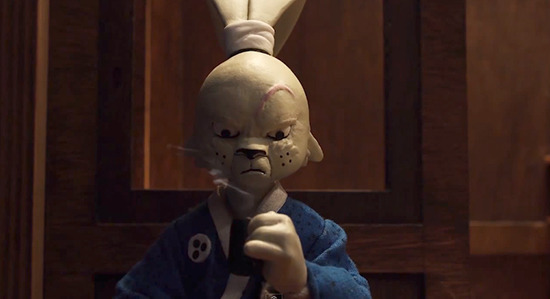 Stan Sakai's katana-wielding rabbit Usagi Yojimbo is an indie comics staple, and a character that goes back decades as an associate of the Teenage Mutant Ninja Turtles. Perhaps because Sakai and TMNT creators Kevin Eastman and Peter Laird were all responsible for anthropomorphized comic characters, their respective creations soon ran into one another in an actual comics story. Usagi Yojimbo eventually showed up in the TMNT cartoon series, and even got his own action figures as part of the original TMNT line.
The warrior rabbit doesn't appear in the new TMNT film, though there is something that could be considered a tip of the hat to the character. But now there's a Usagi Yojimbo stop-motion animated short film, which acts as the calling card for an upcoming animated DVD feature.
This short is a little rough, but is just a proof of concept demo sent to Sakai as part of an entreaty for him to grant screen rights to the character. Sakai said yes, and Lintika Films is now well along in production of a feature-length film in the same style. That movie will be released on DVD soon. Director Roel Robles explains,
It's a still a work-in-progress and about 90% complete. We're currently working on the sound mix and refining the film for the DVD release which will include behind-the-scenes footage, interviews, deleted scenes, and interesting details regarding the making of the featurette.
The studio's Facebook page has a few behind the scenes photos, such as the two below.