Warner Bros. Aggressively Developing 'Aquaman'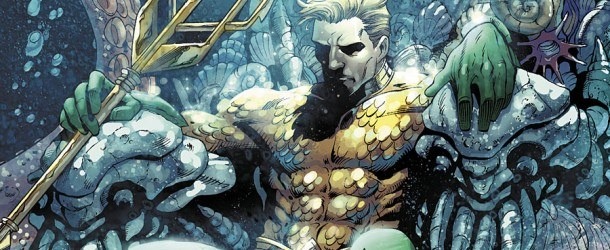 Looks like Warner Bros. and DC have plans for Aquaman that extend beyond an appearance in Batman v Superman: Dawn of Justice and the Justice League film that will follow it. WB has ordered two separate scripts for an Aquaman movie, which are being written by Will Beall (Gangster Squad) and Kurt Johnstad (300: Rise of an Empire).
THR has the report. The idea is to do a dual-track development, where both writers work on different scripts in the hope that one will turn out particularly well. (We've heard of this before, as in the case of the development of a Bad Santa sequel a few years ago.) These won't be for two movies, though there's always the chance that elements of the script that doesn't end up being the dominant one could be folded either into the first movie, or a theoretical sequel.
We know that Jason Momoa is set to play Aquaman, though Warner Bros. has yet to officially confirm or announce that casting.
Zack Snyder recently called in to a Detroit radio show to talk about the character. He said,
You guys were disparaging, a little bit, Aquaman...I don't want to give anything away about the movie or anything like that but Aquaman has some cool abilities. People are like, "Oh what? Does he talk to animals? Cause that seems like what he does. Or fish?" The cool thing with Aquaman is his Trident. So you have to realize that could cut the flesh of Superman if they came in contact. That's a thing that's in the canon. He's super strong cause of course he can exist at these super deep depths so when he comes up here he's crazy strong. Anyway, not to say he's in my movie or anything like that but he has the potential to be bad ass, that's all I'm saying.
While those who've read Geoff Johns' recent run on Aquaman will be happy to know that a real film is in development, this particular approach doesn't inspire much confidence. It says "we need a script, and we need it now," rather than suggesting that producers are running with any one rock-solid idea. That's not to say this won't work out, but I'd rather hear that WB is gung-ho on a single take for the film.
The studio has several untitled superhero release dates set, with the next three being August 5, 2016 and June 23 and Nov. 17 2017. Any of those three dates could be for Aquaman. We have a good idea that one of the 2017 dates will be Justice League, and had heard that some of those untitled films would be revealed soon. It's a good bet that Aquaman will be among the official reveals. No director has been announced for the film.