'Pixels' Bumped Back To July 2015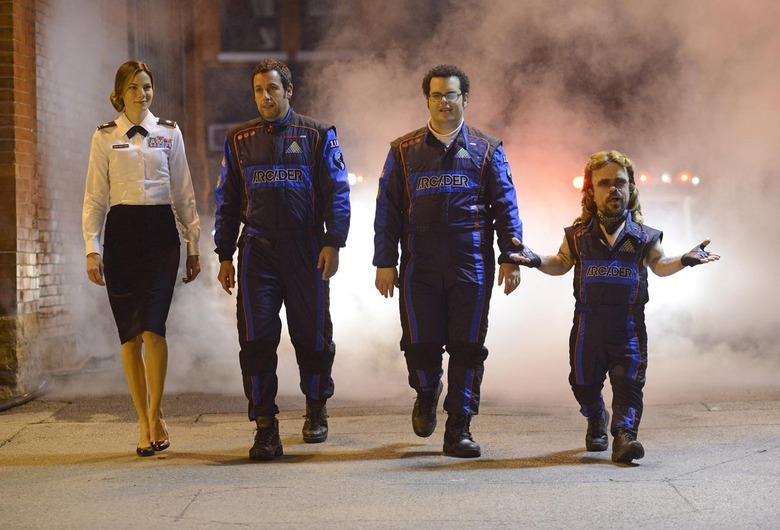 Those four above have a longer walk than they originally thought. Earlier today we had word of one Sony film hitting theaters earlier than planned, as Fury moved from mid-November up to October 17 2014. Now the video game-influenced action/comedy Pixels, based on the short film from Patrick Jean, has been pushed back from May 15, 2015 to July 24, 2015.
The film stars Adam Sandler, Kevin James, Michelle Monaghan, Josh Gad, Peter Dinklage and Brian Cox in a story about aliens who take a few Earthly video feeds in the wrong way, and assume the form of classic video game characters to attack our planet. A weird group of military types and a former video game champ team up to fend off the invaders.
The film has been said to be close to Ghostbusters in tone — in other words, lots of comedy interspersed with big effects-based action sequences.
We don't know the reason for the delay, but this will certainly give the crew more time to work on effects, and that can't be a bad thing.
Pixels is directed by Chris Columbus from a story by Tim Herlihy, and a screenplay by Herlihy and Timothy Dowling, based on Jean's original short film of the same name.
In Pixels, intergalactic aliens misinterpret video-feeds of classic arcade games as a declaration of war against them and attack the Earth, using the games as models for their various assaults. President Will Cooper (James) has to call on his childhood best friend, '80s video game champion Sam Brenner (Sandler), now a home theater installer, to lead a team of old-school arcaders (Dinklage and Gad) to defeat the aliens and save the planet. Monaghan plays the team's unique weapons specialist.
[The Wrap]