Sienna Miller, Elle Fanning And Zoe Saldana Join 'Live By Night' Cast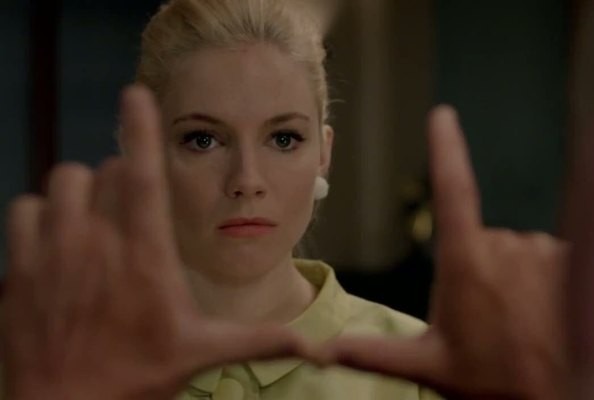 Before being cast in Batman v Superman, Ben Affleck was firming up a plan to direct a new Dennis Lehane adaptation, Live By Night. The Batman gig didn't kill off the Lehane movie, however. Live By Night was only delayed, and now Affleck is moving forward with the project once more. Three women – Sienna Miller (above, in The Girl), Zoe Saldana, and Elle Fanning — are now set to play the primary female roles in the movie. Read more about the Live By Night cast below. 
Deadline has the news. Affleck stars as Joe Coughlin, a Boston police captain's son who becomes more and more enmeshed in the criminal underworld of the Gulf Coast during Prohibition.
Here's the new casting breakdown, with info on how each character fits into the story:
Sienna Miller will play Emma, a girl Coughlin falls for early on, and "

the girlfriend of his mobster boss."
Zoe Saldana will be Graciella Suarez, who Coughlin "meets later as he becomes involved in organized crime in Tampa."
And Elle Fanning is Loretta Figgis, "a sheriff's daughter and aspiring actress who gets into trouble."
Ben Affleck has adapted Lehane before, with his directorial debut Gone Baby Gone. Affleck is also producing the film, through the Pearl Street banner, with Jennifer Killoran Davisson and Leonardo DiCaprio from Appian Way.
The story might sound a bit familiar: A cop's son falls in with bad guys and becomes one. But in Lehane's hands, the Prohibition-era tale of Joe Coughlin's rise to criminal power is both fresh and nuanced, packed with guns, booze, and babes as it roars from Boston to Tampa to Cuba. As Coughlin crosses deeper into the dark side–among those who "live by night and dance fast"–he provokes the question that sustains this propulsive narrative: Can a man be a good mobster and a good person at the same time? Incredibly, Lehane, who becomes more masterful with each book, has us rooting for Coughlin even as he slowly becomes the kind of monster mobster he once reviled and rebelled against.