'Guardians Of The Galaxy 2': James Gunn Discusses Star-Lord's Father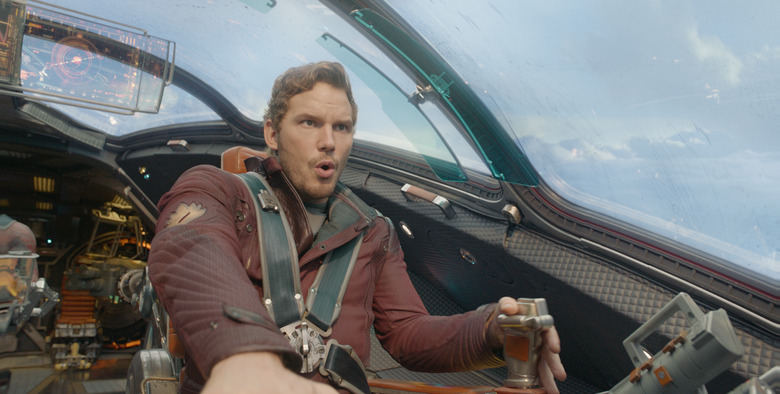 Who is the father of Peter Quill, aka Star-Lord? That's the big question left hanging at the end of Guardians of the Galaxy. The film gives us a couple important pieces of info about the character, and we know that he's likely to factor into the sequel in a big way. Now James Gunn has clarified one point about the guy — if you're a comics reader, Star-Lord's father definitely isn't who you think he could be. Read on for more info.  (Some spoilers for Guardians of the Galaxy follow.)
Update: Now James Gunn suggests we could the character sooner than we thought. Precisely how that might happen is still open to question.
We've talked about the importance of Quill's father in our
extensive Guardians of the Galaxy 2 feature
. (A must-read, if I do say so.)
Asked about Quill's father, Guardians writer/director James Gunn told
, "It's definitely not the character who it is in the comics, I'll say that much." 
The film tells us that Quill's pop isn't human, and clearly he has passed some special abilities on to his son. In the comics, the father is a guy named J'Son, King of Spartax. And we've known that Spartax was featured in some early iterations of the Guardians script; concept art of the planet
.
But Guardians 2 will feature a different backstory for the character. Gunn elaborated,
There have been a lot of documents passed around about who Peter Quill's father is between a select two or three of us. That's been part of the plan since the beginning, that's something I had to work out before we shot the screenplay. We wanted to make sure Yondu's place in everything made sense and it does, so it's all very specific stuff.
There's probably a very big tease there in that phrase "Yondu's place." We've also known that Yondu will have a significant role in the sequel, or at least that the sequel will further explore the character, and probably
. (And Gunn
that only three people other than himself know who Star-Lord's father is: Kevin Feige, Michael Rooker and Sean Gunn.)
And while we're on the subject, there's also the question of Thanos. Despite appearing in minor scenes in two Marvel films so far, we still have little idea how the big bad guy will factor into future stories. Gunn doesn't seem to quite know either, at this point, and it sounds like Thanos' role is far from paramount for Gunn:
He will show up [in the sequel] if he helps our story and he will not show up at all if not. Thanos is not the most important thing in Guardians 2, that's for damn sure. There's the Guardians themselves and other threats the Guardians are going to be facing that are not Thanos."
Update: Bleeding Cool reports that during a Guardians Q&A in Bangkok, Gunn was asked specifically whether or not Star-Lord's father will show up in Guardians 2. The writer/director reiterated the "not quite who he is in the comics" line, then said "He'll... be showing up pretty soon." (See video of the interview at the BC link above.) What does that mean? We don't know! Please join us in speculation below.
***
Guardians of the Galaxy 2 is set for release on July 28, 2017. For more info on the sequel check out our aforementioned 
Guardians of the Galaxy 2 feature
.