'Mortdecai' Trailer: Johnny Depp Is A Bit Of A Moron, Actually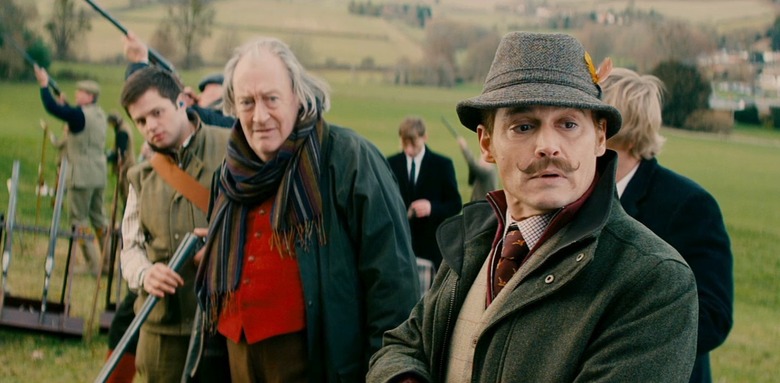 To put it mildly, Johnny Depp is not exactly at a high point in his career. He hasn't had a solid hit since the last Pirates of the Caribbean movie, and his last three starring roles were outright flops. But on the bright side, he'll have plenty of opportunities to redeem himself in the near future.
One of those chances arrives next February in the form of a goofy comedy. Depp plays the title character in Mortdecai, a roguish art dealer racing to recover a stolen painting that could lead to Nazi gold. The first Mortdecai trailer has just been released, and you can watch it after the jump.
By the time Mortdecai actually opens on February 6 Depp's career may already be on the road to recovery, what with Into the Woods hitting theaters this fall. Still, it'd be nice to see him prove himself once more as a lead actor.
The first trailer looks deeply silly, but in an entertaining way. The highly affected but nevertheless charming Charlie Mortdecai seems like a good use of Depp's talents, and he's got a crackerjack cast to support him including Paul Bettany, Olivia Munn, Gwyneth Paltrow, and Ewan McGregor.
Mortdecai was directed by David Koepp from a script by Eric Aronson, which in turn was based on the trilogy of books by Kyril Bonfiglioli. Published in the '70s, the Mortdecai novels have been likened to P.G. Wodehouse's Jeeves books in terms of tone and structure.
Juggling some angry Russians, the British Mi5, his impossibly leggy wife and an international terrorist, debonair art dealer and part time rogue Charlie Mortdecai (Johnny Depp) must traverse the globe armed only with his good looks and special charm in a race to recover a stolen painting rumored to contain the code to a lost bank account filled with Nazi gold.