Sequel Bits: 'Bond 24', 'Zoolander 2', 'Evil Dead 2', 'Sharknado 3', 'Fast & Furious'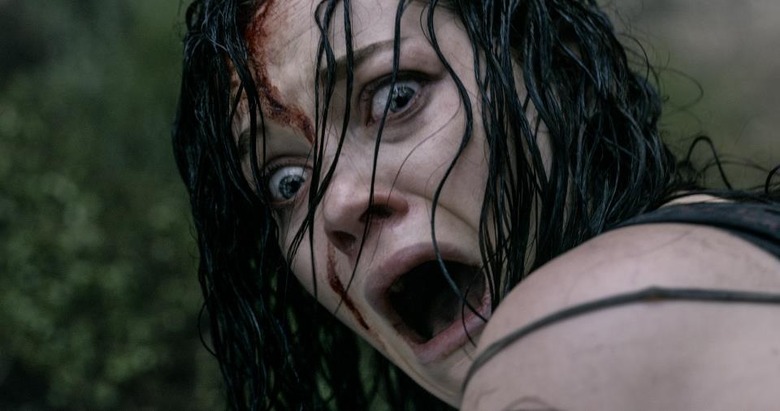 In this edition of Sequel Bits, people talk about movies they're doing, movies they wish they were doing, and movies they're probably never doing. After the jump:
Helen Mirren would "love" to do Fast and the Furious
Daniel Radcliffe wants a cameo in Sharknado 3
Evil Dead 2 is dead, according to star Jane Levy
Justin Theroux thinks Ben Stiller may helm Zoolander 2
Simon Pegg talks up Star Trek 3 director Roberto Orci
Rumor has it Lea Seydoux could be the next Bond girl
... and Sam Smith may be the next Bond theme singer
I always love stunt driving. I do as much driving on my movies as I can. If there's driving stuff to be done, I always beg or insist on doing it myself. Little-known fact: Helen Mirren, stunt driver. I'd love to be in a Fast & Furious movie. I keep putting feelers out. I'd love to do Fast & Furious. I love Vin Diesel as well. He doesn't understand, I think he's so cool.
It's sadly too late to work Mirren into Fast & Furious 7, which opens April 3, 2015. But Dom and his crew are bound to need some new villains or allies for Fast & Furious 8, right? [HuffPo]
Not only does Daniel Radcliffe want a cameo in Sharknado 3, he's even thought about what his scene might look like.
I've been going through scenarios, like you [interviewer Ryan Seacrest] and me could be doing an interview and then... you say, like, 'Would you ever consider doing another franchise?', and I'll be like, 'No, I'd never be seen dead in one' — [and then] shark [attack]... I have ideas.
Or if he doesn't fit into Sharknado 3, maybe he could do one of the other sequels. "Now that Harry Potter is gone, there is a void for the next big franchise," he told Tara Reid, "so I think you should do at least eight of them." [Ryan Seacrest]
The Evil Dead property will live on as a TV series, but the Evil Dead movie sequel is dead. At least, that's what Evil Dead reboot star Jane Levy believes.
I don't think they're gonna make it. I mean, they're always coming up with a new thing- now I hear they're making a TV show. I was like, what? [Laughs] I honestly don't know, but it doesn't seem like there's going to be an Evil Dead 2 anytime soon. At least, not with me in it.
Actors are sometimes the last to know, so don't take Levy's word as gospel. It definitely doesn't seem like a good sign that she hasn't heard anything, though. [Bloody Disgusting]
Justin Theroux isn't giving up on the dream of a Zoolander sequel.
Yeah, we've got a script for the sequel, and we've just been in talks again. We're trying to sharpen it and hone it and, actually, I don't want to jinx anything, but it looks like it actually might be starting to get up and running. [...] I met with Ben [Stiller] a couple times when I was in New York doing The Leftovers, and then I'm meeting again with him probably in September.
However, Theroux's busy The Leftovers schedule may mean someone else will have to direct. "If it gets picked up [for Season 2], then I don't think I'll have the time to do it," he said. "So it'll probably get handed to Ben, which would be awesome." [Vulture]
Many fans were surprised to hear that Roberto Orci had been selected to direct Star Trek 3, since he's never directed a movie before. But Simon Pegg believes his Trekkie-ness makes him a great choice.
I'm really happy he's doing it as it's kept within the family kind of thing, it's not somebody coming in from outside. Bob's been there since the first Star Trek – by that I mean the 2009 one – so it seemed to make perfect sense that he come in as a director on this one because he gets it. He was always the most Trekkie of all of those guys anyway, he's always understood the story the best so it's great that he's going to be involved in the writing and directing.
Star Trek 3 is expected to open sometime in 2016, to mark the franchise's 50th anniversary. [BBC]
Every Bond movie needs its Bond girl (or several), and rumor has it Léa Seydoux could be it for Bond 24. The Blue Is the Warmest Color actress is reportedly the "top choice" for an unspecified character in the film, though that doesn't mean she's actually accepted as of yet.
Meanwhile, Sam Smith could be in the running to fill another key Bond role: the theme song singer. The word is that Adele (who sang "Skyfall" last time) has turned down the chance to record another Bond tune, so Smith might get the job instead.
No doubt we'll learn more before Bond 24 arrives November 6, 2015. [Schmoes Know, NME]