Tour Legendary's Crimson Peak And Pacific Rim Comic Con Exhibits With Guillermo Del Toro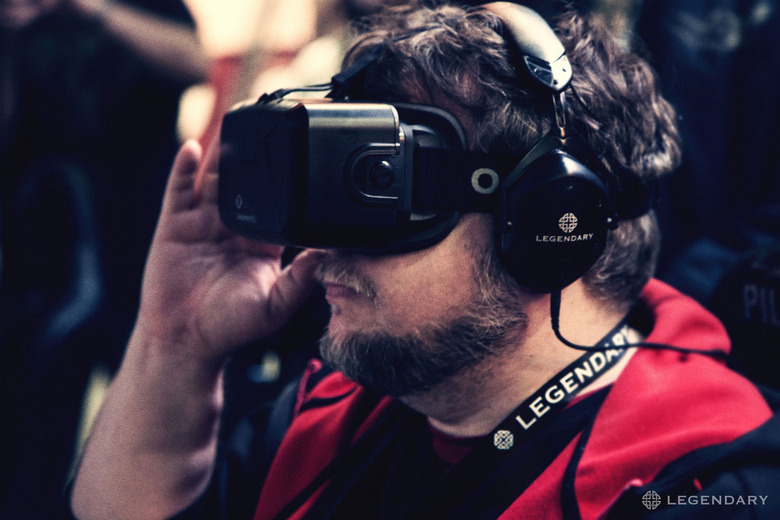 The show floor at San Diego Comic-Con is an obstacle course crossed with a puzzle. You'll traverse masses of people and giant booths to find cool things of interest that could be hidden anywhere. For movie fans, one of the best (and best-hidden) booths was for Legendary Pictures. Though it was extremely tiny, it had very cool things from three movies: Warcraft, Pacific Rim and Crimson Peak. We covered all of them during our Comic Con coverage but the Legendary folks have provided a video tour of their own, featuring director Guillermo del Toro explaining some of the secrets behind Crimson Peak and the amazing Pacific Rim Oculus Rift experience. See the Guillermo del Toro Comic Con videos below
Here's a video about the Pacific Rim Jaeger Pilot Oculus Rift via Legendary's YouTube.
For more on this experience, specifically what you see when the visor comes down, read my description here.
The official info:
PACIFIC RIM: JAEGER PILOT is the next evolution of the thrilling universe Legendary is creating with director Guillermo del Toro. Created by the leading pioneers of virtual reality, Oculus VR, the attraction delivers a new benchmark in virtual reality experiences as fans will step into a fully-realized Jaeger Combat Simulator and experience what it feels like to pilot a 250-foot robot. Created with original film assets from Industrial Light & Magic and developed within Unreal Engine 4, Pacific Rim: Jaeger Pilot provides a thrilling first-person battle between Gipsy Danger and the kaiju codenamed Knifehead.
And here's del Toro giving a tour of the Crimson Peak Gothic Gallery:
I wrote about the experience too, along with my own tour, which looks a lot less clean than this. But you can check it out here.
Official info:
A physical experience handcrafted by Guillermo del Toro himself, fans will get a glimpse behind the curtain of Crimson Peak and an early tease of the ultimate haunted house. Designed in the look of one of the sets of the movie, the Gothic Gallery is a living breathing gallery of curiosities that includes props, costumes, and an atmospheric soundscape designed by Academy Award® Winner Randy Thom. As people walk through, they will get the message loud and clear – BEWARE CRIMSON PEAK!
What do you think of these Guillermo del Toro Comic Con videos?