'Camp X-Ray' Trailer: Kristen Stewart Gets Sent To Guantanamo Bay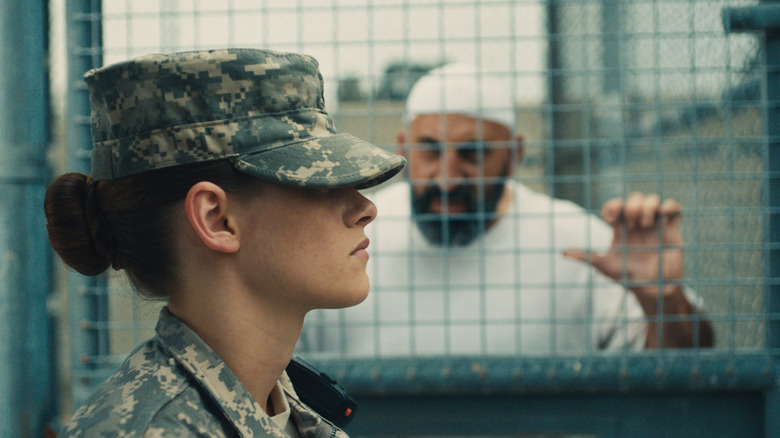 Kristen Stewart's breakthrough movie Twilight was as big and mainstream as movies get, but she hasn't been afraid to tackle smaller and more serious fare as well. Her latest release is Camp X-Ray, a Sundance drama about our ongoing War on Terror.
Directed by Peter Sattler, Camp X-Ray follows Stewart's Amy Cole, a young soldier serving as a guard in Guantanamo Bay. Though the rules at the prison are black and white, her developing friendship with detainee Ali (Peyman Moaadi) makes her realize that reality is much less so. Watch the first Camp X-Ray trailer after the jump.
The film as a whole received mixed reviews at Sundance. Some critics admired its "thought-provoking" approach to a controversial subject, while others rolled their eyes at the film's lack of plausibility and dismissed it as "wasted potential."
Still, most had compliments for the actors. Perhaps it's not surprising that Moaadi, who's best known to American audiences as the dad in A Separation, did some fine work. But Stewart, who seems to have as many haters as fans, also received strong praise.
Several reviews called Camp X-Ray one of her best performances yet, and even the less enthusiastic ones grudgingly admitted that she wasn't bad. If you're a fan of Stewart's — or even if you're just curious about her career prospects going forward — Camp X-Ray should be worth a look.
Camp X-Ray opens October 17.
A young woman joins the military to be part of something bigger than herself and her small town roots. But she ends up as a new guard at Guantanamo Bay instead, where her mission is far from black and white. Surrounded by hostile jihadists and aggressive squadmates, she strikes up an unusual friendship with one of the detainees. A story of two people, on opposite sides of a war, struggling to find their way through the ethical quagmire of Guantanamo Bay. And in the process, they form an unlikely bond that changes them both.