'Two Night Stand' Trailer: Miles Teller's Other 2014 Hookup Romcom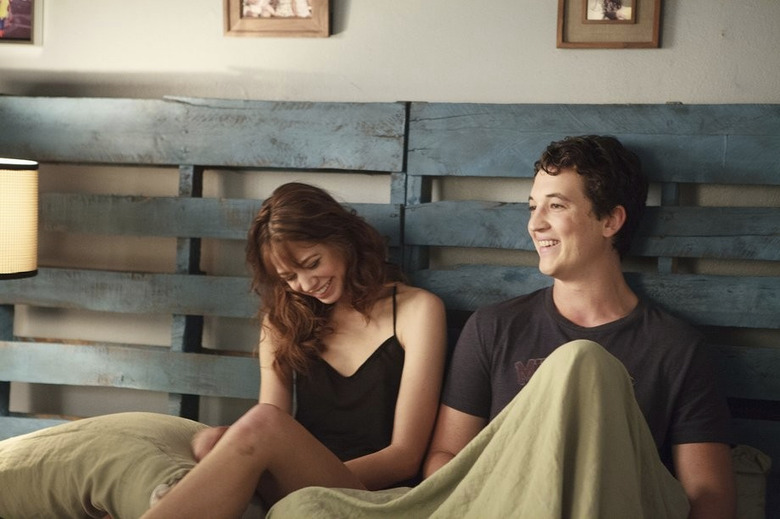 As the maxim goes, if at first you don't succeed, then try, try again. Miles Teller has already debuted one hookup romcom this year, the disastrous That Awkward Moment, and now he's back with another one titled Two Night Stand.
This one stars Teller and Analeigh Tipton as two strangers who hook up and then get stuck together when a blizzard traps them inside. Jessica Szohr and Kid Cudi star as her friends. Watch the Two Night Stand trailer after the jump.
Maybe the genre really is dead and maybe it isn't, but either way the Two Night Stand trailer does not look like a sign of its robust health. The "casual hookup that turns into something more" plotline feels so, so tired, and not even Teller and Tipton's considerable charms seem able to elevate it.
Which is a shame, because Teller could've been a romcom king in another time. He's handsome and likable, with the same slightly rakish quality that made Matthew McConaughey and Hugh Grant so big back in the day. But for now, it looks like he'll have to "settle" for being a superhero.
Two Night Stand opens September 26. Max Nichols — as in, son of Mike — directed.
A no-strings-attached, online hook-up turns into a morning-after disaster for twenty-something New Yorkers Megan (Analeigh Tipton) and Alec (Miles Teller). When a paralyzing blizzard hits the city trapping them in Alec's cramped Brooklyn apartment, they are forced to get to know each other far beyond the confines of a typical one-night stand. Marking the directorial debut of Max Nichols, Two Night Stand is a sexy, romantic comedy about finding love in the digital age.
Months after graduating from college Megan is unemployed, unattached and unable to get off the couch. Heartbroken by the collapse of her wedding engagement, she considers internet romance with limited interest. But following a chance encounter with her ex (Josh Salatin) and his new girlfriend (Kellyn Lindsay) – and egged on by her roommate Faiza (Jessica Szohr) and her boyfriend Cedric (Scott Mescudi, aka Kid Cudi) – Megan boldly propositions Alec, a cute and funny guy she meets online, inviting herself to his apartment for her first ever one-night-stand. After a calamitously unromantic morning after, she tries to make a discreet exit only to discover that the city has been pulverized by a record-breaking snowfall that shows no sign of letting up.
Unable to leave the building, she sheepishly takes shelter with an equally mortified Alec. Forced to spend another day and night together, Megan and Alec's first real face-to-face conversation veers from banter to bickering and back, as the provocative chemistry that lit up their online introduction quickly reignites. While rating each other's erotic IQs, they realize they have a unique opportunity for a hands-on learning experience that inevitably leads them to a very adult snow day.