'Teenage Mutant Ninja Turtles' - What Did You Think?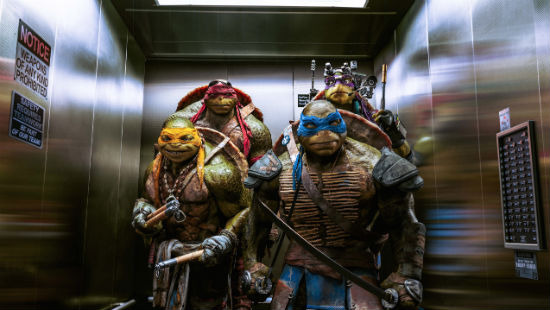 We've had a long time to wonder what a Michael Bay-produced Teenage Mutant Ninja Turtles film would look like. Now that the film is in theaters we can see the results: pumped-up, violent, a bit over-sexualized, and simple but not exactly faithful to either the early comics stories, or the animation that made the turtles insanely popular.
Directed by Jonathan Liebesman (Battle: Los Angeles, Wrath of the Titans), the film stars Megan Fox and Will Arnett as humans who end up in the company of four giant mutated humanoid turtles. The cast also features Pete Ploszek as Leonardo (voiced by Johnny Knoxville), Alan Ritchson as Raphael, Noel Fisher as Michelangelo, and Jeremy Howard as Donatello.
We've reviewed the film in print and podcast. Now that Teenage Mutant Ninja Turtles is out, we want to know what you think. Spoilers are encouraged in the open comment thread below.
I agree with Germain that the elevator scene is the best in the film, because it breaks out of the simplistic plot to show the characters in a moment of downtime. The plot of the film is simple, and in story, character, and theme Teenage Mutant Ninja Turtles is structured like a kids movie. But more often than not the tone of the film clashes with that structure. And saying the structure is like a kids movie doesn't excuse any of the film's failings. There are plenty of kids movies that are great for kids, and some that are wonderful for all audiences. This is not one of them.
Tell us what you thought of Teenage Mutant Ninja Turtles below.