Lonely Island Sell Music Comedy To Universal With Producer Judd Apatow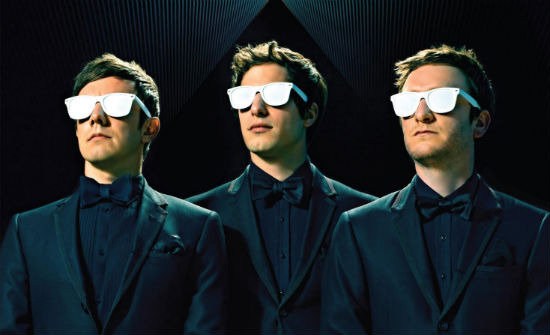 They've put their D's in a box, had some lazy sundays, been on a few boats and now they sold another movie. The musical comedy trio Lonely Island - Andy Samberg, Akiva Schaffer and Jorma Taccone – just sold an untitled comedy pitch to Universal set in the world of music. Judd Apatow will produce and Schaffer and Taccone will co-direct. The pair also co-directed Hot Rod, which starred Samberg, and you'd imagine that dynamic will carry through here. Read more about the new Lonely Island movie below.
Deadline broke the news which, is basically just that. There's no info except that it's a comedy set in the world of music. You'd hope, at least, that will give the trio a reason to put new songs in a movie. In fact, I kind of hope the movie is a musical but that's just a wild guess.
Lonely Island's first movie, Hot Rod, was not a hit at the box office but has since developed a pretty devoted fan following. At the time though, Samberg wasn't as popular as he is now – being the star of a hit TV show. That, plus the addition of Apatow as a producer, should give this movie a pretty solid pedigree.
Lonely Island as a trio first rose to fame when Andy Samberg used his group to make SNL Digital Shorts. The first one, Lazy Sunday, was a viral sensation and from there, almost every month the group had a new, funny, video on SNL starring some of Hollywood's best. Dick in a Box with Justin Timberlake, Natalie's Rap with Natalie Portman, Motherlover...also with Justin Timberlake. Those are just a few. The list of their celebrity cameos, both on SNL and their three albums is insanely impressive and a testament to their skill.
Oh, also, Taccone directed MacGruber.
Are you excited for a new Lonely Island movie?