Star Wars Bits: Episode VII Praise Plus Daisy Ridley, Benedict Cumberbatch, Celebration And Boba Fett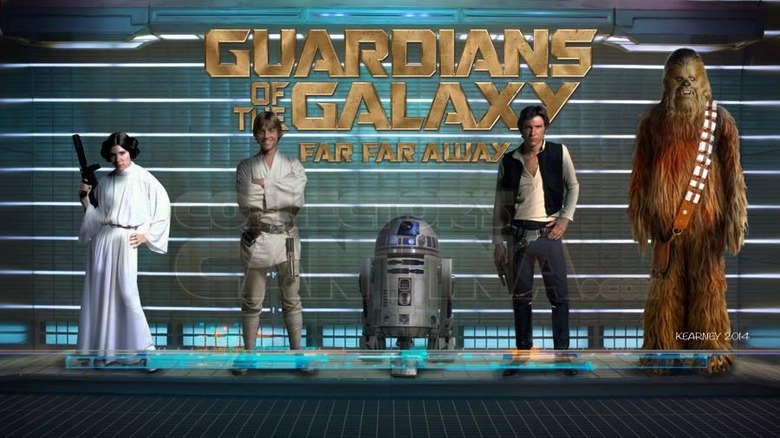 We may receive a commission on purchases made from links.
Star Wars Episode VII and Star Wars Rebels rumors, praise, trivia and even inside Hollywood stuff are in this edition of Star Wars Bits. Below, read about the following:
Disney CEO Bob Iger has seen Star Wars Episode VII footage.
New rumors have risen about the location of the Millennium Falcon.
Is Jabba's Buboicullaar back in Episode VII?
Star Wars spinoff writer Gary Whitta praises Guardians of the Galaxy.
Is Boba Fett in Star Wars Rebels?
Matt Reeves won't be directing a Star Wars film for some time.
Benedict Cumberbatch does a great Jar Jar Binks impression.
What do the Miami Marlins have to do with Star Wars?
Peter Mayhew heaps high praise on Episode VII.
Read about how Star Wars Rebels is influenced by Ralph McQuarrie's art.
Dave Filoni and more are confirmed for Star Wars Celebration.
Daisy Ridley just got herself a fancy Hollywood agent.
The official Star Wars Timeline is set. Sort of.
Talking to CNBC, Disney CEO Bob Iger said the following about Star Wars Episode VII. Watch the video here (1:50), but the quote is below:
I can only tell you that production is underway. We have a very brief hiatus, which is due in part to the fact that Harrison Ford broke his ankle.
The footage we've seen is very, very exciting to us. I think there's about 500 days left between now and December 18th, 2015 when the movie comes out. That doesn't seem like very long.
There's a lot of pent up demand. We're just as excited as the fans are about it.
Latino Review's regular Star Wars column last week had some really interesting rumors in it about the location of the Millennium Falcon and why Luke Skywalker has a beard. If true, they'd be huge spoilers so we won't run it here.JediNews noticed that a puppeteer named Roman Bloodworth was recently added to the IMDB page for Star Wars Episode VII, playing the creature Buboicullaar from Jabba's palace in Return of the Jedi. It's probably just a fan joke but, on the off chance its not, now you know.
The links between Star Wars and Guardians of the Galaxy are numerous. There's the image above (via TheCollectorsCantina), this article on Star Wars.com, and now this interaction between 2016 spinoff writer Gary Whitta and Guardians director James Gunn.
We know characters like Bail Organa, Lando Calrissian and Obi-Wan Kenobi are going to appear in Star Wars Rebels but what about Boba Fett? The character exists in the time period and, if you look at this post on Star Wars 7 News, one of the toys suggests the Slave 1 appears. There's also a seemingly new design of the character. So it seems likely.
Also on the Rebels front, the one hour pilot is now available for pre-order on Amazon.
One of the names people mentioned they'd like to see direct a Star Wars film is Matt Reeves. Well, that's now looking less likely. Last week, the Dawn of the Planet of the Apes director signed an overall deal with Fox, locking him into the studio for three years. To be fair, that basically just means he'll make the next Apes movie, out 2016. But the commitment definitely keeps him off the market for a while.
There's a lot of embarrassing moments in this MTV video, but if you jump to 1:50, you can see Benedict Cumberbatch do a perfect Jar Jar Binks impression.
Get More:
Movie Trailers, Celebrity NewsPajiba points us to a video from a recent Miami Marlins game, promoting an upcoming Star Wars night. It's just a really good video featuring effects that don't necessarily belong on a Major League Baseball jumbotron. I tried to embed it, but it didn't work. Click the link to see it.Chewbacca himself, Peter Mayhew, was at a recent Wizard World (via Blastr) and had some very nice things to say about J.J. Abrams' Star Wars Episode VII. Here's an excerpt:
After joking that he was working on a little project that he thinks some people might show up to watch, he said the J.J. Abrams-directed Episode VII "will be the best Star Wars film I will have seen." Mayhew added the film will utilize no, or very little, computer generated effects and will instead be very practical.
The Disney Blog has a great, detailed article on how Star Wars Rebels was influenced by the work of Ralph McQuarrie and more. Here's a short excerpt:
"We're going back to the source, to the stuff that inspired George Lucas and the people that made all the props and effects for the original movies, before the movies were even made," Kilian told us. "We're going all the way back to the raw visual language of shapes and silhouettes that, because Ralph is so integral to what the movies look like, will feel very familiar to fans."
Star Wars.com revealed a bunch of new information about Star Wars Celebration in a recent post. We learned Star Wars Rebels executive producer Dave Filoni will be on hand, some deadlines about art shows and much more. If you are going, it's a must read. The event takes place April 16-19, 2015 in Anaheim, CA.Deadline.com reports that Star Wars Episode VII star Daisy Ridley just got herself a fancy Hollywood agent at the United Talent Agency. That in itself isn't of much interest to us but, the article says the following: "The plan is for her carry through to the second and third films that will be directed by Looper helmer Rian Johnson." Interesting that they still stick by the statement Johnson is directing both.Leland Chee, the official keeper of the Lucasfilm Star Wars timeline called the Holocron, took to Twitter to settle some debate on the Star Wars timeline. Basically – it's what you think – I, II, Clone Wars, III, Rebels, IV, V, VI. But in another tweet, he said Episode IV was considered Year 0. It's a little confusing, and personally I don't get the issue, but Star Wars Underworld has more info.