Watch The Best Scene In The New 'Teenage Mutant Ninja Turtles' Movie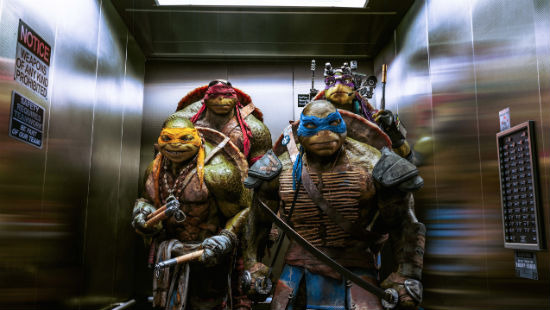 In my recent review of Jonathan Liebesman's Teenage Mutant Ninja Turtles, I said the following:
There's one fantastic scene of the four Turtles. Together in an elevator, they start beat-boxing. It's dumb, but also funny and charming. That's what this movie is missing.
And I'd like to think Paramount listened to me, because that scene is now online. It's the perfect juxtaposition of what's right, and what's wrong with the film. Watch the best scene in the Teenage Mutant Ninja Turtles movie below.
Thanks to Yahoo for the scene. Do realize, this is the start of the film's climactic battle, so minor spoilers I guess.
Teenage Mutant Ninja Turtles Movie clip
In this scene we see everything right and wrong about Teenage Mutant Ninja Turtles. We see some of the humor, character and personality of the Turtles. We see the fantastic performance capture and chemistry between them. But then, they stare down Shredder and yes, this is the one use of "Cowabunga" in the movie. If they just said it without acknowledging it, that would have been awesome.
But, for some goofy reason, Raphael reveals they used to use the word as kids but now treat it like it's some kind of curse word. Why? Sure it's cheesy and childish but the scene that immediately preceded this moment showed the Turtles ARE cheesy and childish. The juxtaposition makes no sense and cancels out the good will.
You can read the rest of my review here. The new Teenage Mutant Ninja Turtles movie opens Friday. Here's the official description:
The city needs heroes. Darkness has settled over New York City as Shredder and his evil Foot Clan have an iron grip on everything from the police to the politicians. The future is grim until four unlikely outcast brothers rise from the sewers and discover their destiny as Teenage Mutant Ninja Turtles. The Turtles must work with fearless reporter April O'Neil (Megan Fox) and her wise-cracking cameraman Vern Fenwick (Will Arnett) to save the city and unravel Shredder's diabolical plan. Based on the Teenage Mutant Ninja Turtles Characters Created by PETER LAIRD and KEVIN EASTMAN with a Screenplay by JOSH APPELBAUM & ANDRÉ NEMEC and EVAN DAUGHERTY, Producer MICHAEL BAY (the blockbuster Transformers franchise) and director JONATHAN LIEBESMAN (Wrath of the Titans) bring Teenage Mutant Ninja Turtles, the popular franchise that has captivated audiences of all ages for decades, into the 21st century.