Kyle Marlett Reveals The Magic Of SyFy's 'Wizard Wars' [Interview And Clip]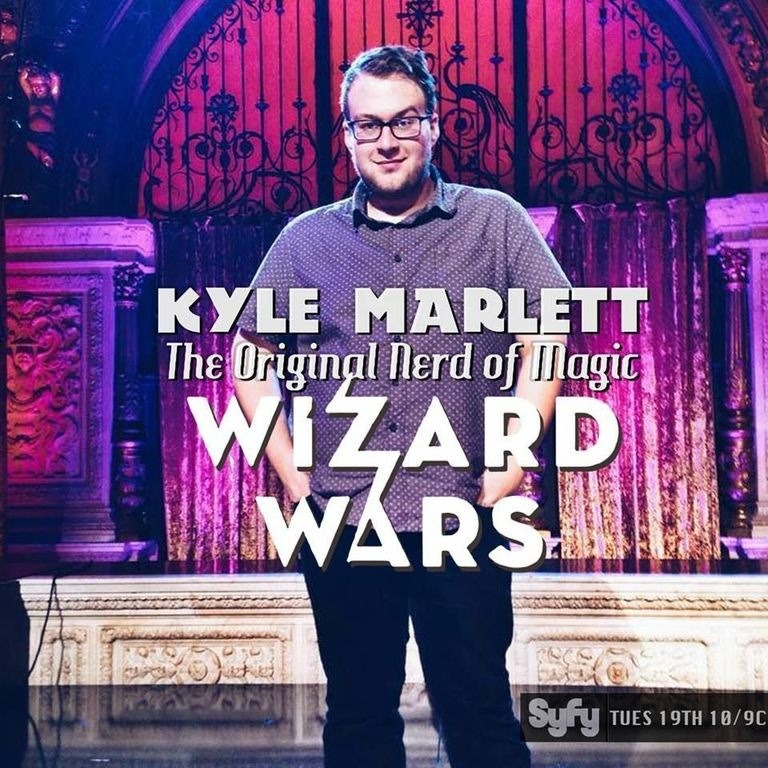 Its not a secret that I often fiddle around with magic tricks, its been one of my hobbies since I was a kid. It seems to me that Magic is coming into a new renaissance, with big screen movies like Now You See Me (which they are set to make a sequel) and The Incredible Burt Wonderstone (which they won't be making a sequel), and this year alone has filled my DVR with magic television series, including the magic prank television series The Carbonaro Effect on truTV and Don't Trust Andrew Mayne on A&E, CW is doing a US airing of the amazing British television series Penn & Teller's Fool Us (which will very likely spawn a new season with new episodes), the reboot of Masters of Illusion television specials from my childhood, Dan White's White Magic on Travel Network, and Comedy Central recently ordered Sleight of Mouth, a weekly comedy/variety/magic show starring comic/magician and TV host Justin Willman.
But one of the shows I'm most looking forward to is Wizard Wars which will begin airing on SyFy on August 19th at 10pm. The competition reality series pits teams of magicians against each other to invent and create new tricks with a set of constraints (props, rules...etc). I was able to chat with Las Vegas magician and /Film reader Kyle Marlett who appears on the premiere episode. Marlett is a member of the new generation of magicians, he owns up to the nerd/geek label, and has appeared on the Tonight Show and performs magic daily on the Las Vegas Strip. Find out more about Wizard Wars Kyle Marlett in our exclusive interview after the jump.
Wizard Wars Trailer
Interview With Wizard Wars Kyle Marlett
So tell me about Wizard Wars, what is the television show about and why should Muggles watch it?
Wizard Wars is a concept from my friend Rick Lax who had the idea of doing a magic show that meets Chopped. Two teams of magicians are given random bizarre objects and we have one hour to create brand new magic with the objects. I think Muggels will dig this show. Everyone wants to know how magic works and this show gives you a peek.
I've followed your magic for some time and as a magic hobbiest, I was even a subscriber of your PenguinMagic download series The Weekly. How did you get involved in magic?
Wow! Really? I had no Idea. That means a lot seeming how I'm a big fan of yours! I started magic at the young age of 4 after seeing a magic show on TV. Magic was my escape, I'm a nerd and I love all nerdy things. Growing up I would get bullied for being a nerd so magic became the thing I would go work on to get away from the bullies. It was something I could do that the bullies couldn't. Since then I've performed all my life and been very grateful to have a show on the Las Vegas strip, appeared on The Tonight Show, and now Wizard Wars all at the age of 22.
Original Wizard Wars Pilot (homemade)
I watched the original low budget home made Wizard Wars pilot on Youtube when it was released, and you were also part of that. How did you become involved in Wizard Wars and the premiere episode?
That was so much fun. It's fun doing something and not having any idea that it's going to be turned into a TV show. We shot the pilot in Rick Lax's apartment here in Vegas. We are close friends and we all thought it was a fun idea and what did we have to lose? And it got over 100K views on Youtube. After a while Syfy picked it up for a series. They even shot a pilot that was going to air to be tested but I guess they thought it was so good they decided to go straight to series. The show has changed a bit, now its two teams of magicians compete and are judged by four judges (including Penn and Teller) and the wining goes on to compete against the Wizards for a prize of 10K.
Fun fact : Wizard Wars was shoot on the same set as always Sunny in Philadelphia. The bar is still there and we used it during the show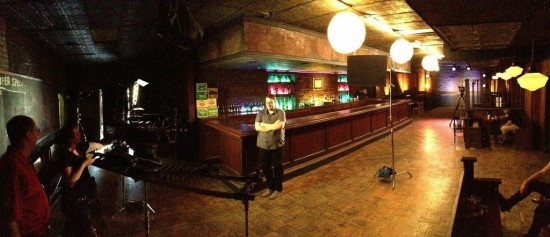 Do the magicians have to make do with only the items they are given or are they also allowed to incorporate magic props and or gimmicks (for instance, a more obvious example would be a thumb tip to make a small piece of spam disappear)?
Oh the ol Spam and thumb tip trick, it's a classic! The rules state the we must use the the items they give us but we are allowed to use other props and magic devices to achieve our routines if needed.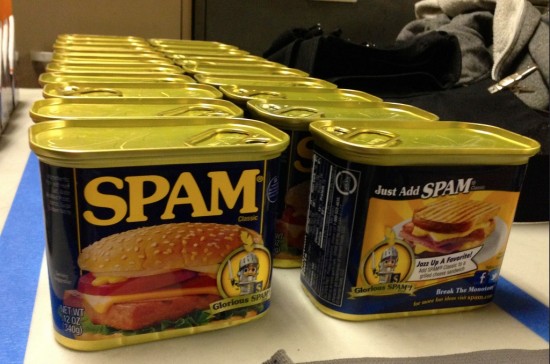 What can you tell me about the premiere episode? Who are you facing off against and what kind of challenges are involved?
The premiere is going to be a great episode. I'm partnered with Dalton Wayne a magician from Ohio which worked out well because Dalton and I were friends before the show. We go against two Canadians Chris Funk and Ekaterina. I don't want to spoil to much but I will say that for the first round one of our props that we had to use was Spam which was interesting seeming how I'm a vegetarian.
Some of these magicians are names people in the world of magic would recognize — they are guys with fully perfected routines. What is to stop one of these guys from using a trick or gimmick already in their arsenal or something they've already learned?
Good question. As magicians we know so much magic but most of what we know is methods and a lot of methods can be used with different object such as Spam. Now on the other half of your question, lets say I'm a master of card magic, I can't really do what I can do with cards with Spam so it prevents me from doing what I already do and forces me to be creative.
What's the craziest yet impressive trick you saw filmed during the series? Maybe something that would have never been performed if not for the constraints of the show...
Oh man! That's such a hard question. 6 episodes with 28 magicians is a lot of magic! I don't think I can give away to much but my friend Blake Vogt did this incredible thing with a chair that I did not see coming and neither will you!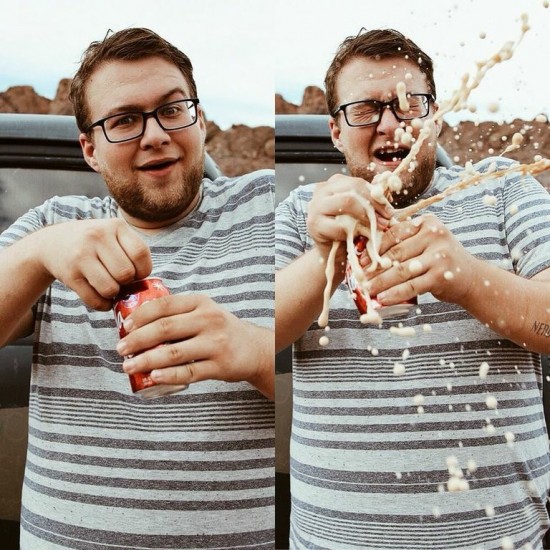 I feel like something holding the world of magic back is the old school thinking of the older members of the magic community...
I couldn't agree with you more about the old school thinking and older members. It's hard as a young magician to gain the respect from older magicians. I've created magic from some of the top TV magicians in the world but because older magicians are stuck in the olden days they don't care or haven't even heard of me but in todays world there are so many young and creative magicians out there, way more then there were when I was a kid. I mostly think we have the internet to thank for that.
Penn & Teller have pushed the envelope of the Magician's code in their act and on Fool Us, but I feel like fully exposing tricks like their performance of Cups and Bulls with see-through plastic cups just further impress the art behind the magic. How does this show walk the line of showing how you craft a trick without fully exposing how everything works? And what was the discussion about this when creating this show?
The show doesn't really expose anything. It does give you a few hints here and there but its more about the creative process and letting laymen peek behind the curtain. I believe this only helps magic because most people don't respect the hours of hard work that can go into a 30sec magic effect. Magic is suppose to seem effortlessly so people think that it's just that but they have no idea what I just showed them took me four years to develop.
Hows it like to work with Penn & Teller?
Penn and Teller were great and they are incredibly supportive. Magicians are dorks and underdogs, Penn and Teller are a pure example of how underdogs can be popular and famous so they were rooting for us the whole time!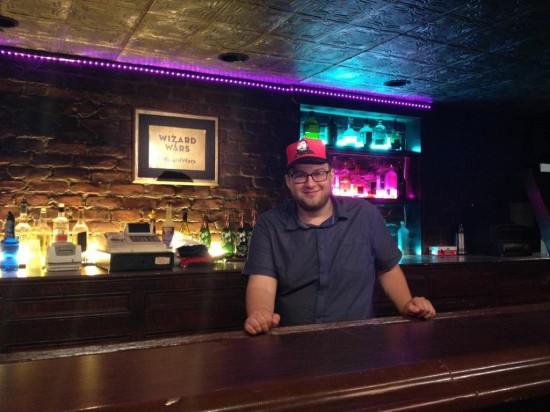 Magic seems to be making a comeback on television, why do you think that is?
Ever since I was a kid, magic TV shows would come in spurts. Just like you I grew up watching Worlds Greatest Magic every year or David Blaine's new special. Then when guys like Criss Angel came around it showed that magic could keep peoples attention for a whole season. I think the biggest reason magic is coming back and I know I've said this already but magicians are nerds and right now at this moment it's awesome to be a nerd! Nerds are running the world!
Could movies like Now You See Me and Burt Wonderstone have had an effect?
I doubt it. Now You See Me wasn't bad and it might have helped and I REALLY wanted to like Burt Wonderstone but neither one of these movies really showed real magic.
One last potentially cheesy question: Which movies and television shows inspire your magic (which might not necessarily be your favorites)?
Cheesy? By far my favorite question you've asked! A lot of magicians are inspired by other magicians but I myself love movies so much and I'm greatly inspired by them. Anything classic with Chaplin or Keaton, The Dark Knight Trilogy, Beetlejuice, Who Framed Roger Rabbit, any and all Bond films, and more. I also love great soundtracks from movies like Crazy Stupid Love or even The Neighbors had good sound track. With that being said my biggest inspiration from his movies to his stand up is Steve Martin. I hope is one day I'm 10% as funny as Steve.
Where can /Film readers find more of you performing magic in the real world and online?
Right now I'm on tour and you can find out all the tour details on my site www.kylemarlett.com but if you just love watching magic I post short new magic videos on my Instagram all the time @kylemarlett and i'll be live Tweeting the premier on my Twitter @kylemarlett
Watch an exclusive Wizard Wars Kyle Marlett clip below:
And here is more information on Wizard Wars from Syfy:
Syfy debuts an exciting new six-episode competition series, Wizard Wars, on Tuesday, August 19 at 10 p.m. ET/PT, introducing bright and innovative young magicians who must impress judges Penn & Teller with mind-blowing, original magic using only a random assortment of everyday objects.Innovation takes center stage as the magicians transform objects such as dog treats, leaf blowers, a pirate's costume and garden gnomes into engaging magic performances before a live audience. Each episode begins with two teams of magicians going head-to-head with a limited amount of time to create an original routine. The winning team will then enter "The Wizard War" and compete against the expert "home team" of world-renowned "Wizards" to battle it out for bragging rights, and a $10,000 prize.Two-time World Championship of Magic winner Gregory Wilson, Wynn Resort resident magician Shimshi, YouTube sensation and contemporary street illusionist Justin Flom, and internationally renowned mentalist Angela Funovits will compete as the home team. These masterful performers and magic creators cover every discipline in magic from sleight of hand to large-scale stage illusion.Joining the legendary Penn & Teller on the judging panel is the 2012 winner of BBC's The Magicians, Jason Latimer, and popular web host Christen Gerhart .The series premiere features two edgy young American magic creators, Kyle Marlett of Las Vegas, NV and Dalton Wayne of Columbus, OH, against a team of Canada's best illusionists, Chris Funk and Ekaterina. Their challenge is to take Spam and Super Soakers and incorporate them into a fresh magic performance.With each episode the magicians will be challenged to continue to push magic to new and greater heights, and the world will be one step closer to discovering the next great contemporary magician. The series is hosted by Ellen Fox.Wizard Wars is produced by A. Smith & Co. (Hell's Kitchen). Executive producers are Arthur Smith, Kent Weed, Frank Sinton, Tim Eagan, Penn Jillette and Teller.