Tony Jaa And Scott Adkins Join 'Kickboxer' Remake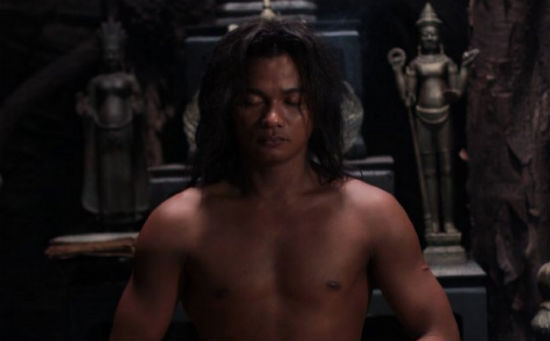 The remake of Kickboxer just got a major martial arts upgrade. Directed by Stephen Fung and starring rising martial arts star Alain Moussi, the film has landed Tony Jaa (Ong Bak) and Scott Adkins (The Bourne Ultimatum). They join a cast that already included Dave Bautista (Guardians of the Galaxy) and Georges St. Pierre (Captain America: The Winter Soldier). Read more about the Kickboxer remake cast below.
Variety reported the new cast additions.
Adkins is an accomplished onscreen martial artist with a laundry list of roles to his credit, the biggest being the aforementioned Bourne Ultimatum and Zero Dark Thirty. He also did all of the marital arts for Ryan Reynolds' Deadpool character in X-Men Origins: Wolverine, but don't hold that against him.
Jaa, on the other hand, needs little introduction. The Thai martial artist has been dropping jaws since 2003's Ong Bak and has continued that streak in that film's sequels, in addition to The Protector franchise. Many consider him to the be the latest martial arts master in the mold of Bruce Lee, Jackie Chan and Jet Li. He'll next appear in James Wan's Fast and Furious 7.
The director, Fung , did Tai Chai Zero (2012) and Tai Chi Hero (2012) while Moussi is a stuntman in X-Men: Days of Future Past, Pacific Rim, White House Down and Immortals among others. He'll be playing the  Jean Claude Van-Damme role, which would likely set Jaa, Adkins, Bautista and St. Pierre in smaller, but important, adversarial roles.
With the addition of all these guys, the Kickboxer remake is becoming something of a martial arts Expendables. Like the original film, the film follows a martial artist who travels to Thailand looking for his brother. When he realizes his brother has been killed, he'll kick ass to get revenge. It's very likely all of these people will be adversaries to Moussi.
There's no word on when production will start on this one, but if it's in the Fall as seems likely, we should see this one by next Summer. What do you think about the Kickboxer remake?
Here's the full press release with more details:
Brian O'Shea, CEO of The Exchange, has announced and confirmed that in addition to having Dave Batista, star of GUARDIANS OF THE GLAXY, former UFC welterweight champion George St. Pierre, and Alain Moussi of X-MEN: DAYS OF FUTURE PAST, the 3D reboot of KICKBOXER will boast two additional action stars: Scott Adkins (THE BOURNE ULTIMATUM, ZERO DARK THIRTY) and martial arts legend Tony Jaa (ONG BAK trilogy, FAST & FURIOUS 7). 
The high-octane KICKBOXER remake is directed by Stephen Fung (TAI CHI ZERO, TAI CHI HERO). It stars Alain Moussi (X-MEN: DAYS OF FUTURE PAST), 
With the addition of Adkins and Jaa, KICKBOXER features a variety of over 20 martial arts disciplines. GUARDIANS OF THE GALAXY star Batista has long wrestled professionally for WWE but has formal backgrounds in Kali, Muay Thai and Brazilian Jiu-Jitsu. Moussi is a practitioner of Karate, Kickboxing, Aikido, Goshindo, Kobudo, Filipino martial arts, Sambo, Judo, and Jiu-Jitsu. St. Pierre practices Kyokushin Karate, Brazilian Jiu-Jitsu, Muay Thai, Boxing, and Wrestling along with a vast array of talents stemming from a Mixed Martial Arts background.
Adkins has a lengthy resume in the action genre with roles in THE BOURNE ULTIMATUM, THE EXPENDALES 2, and a slate of other action-centric films. Adkins has also worked alongside the original KICKBOXER, Jean-Claude Van Damme, battling the legend on screen in UNIVERSAL SOLDIER: DAY OF RECKONING. Adkins has backgrounds in Taekwondo, Kickboxing, and Judo.
Jaa is a veteran of the martial arts genre. His groundbreaking, blitzkrieg-paced ONG BAK films are cult classics. He also starred in THE PROTECTOR. Jaa is trained in Taekwondo, Muay Thai, Muay Boran, Aikido, Judo and Wushu.
KICKBOXER follows Kurt Sloan (Moussi), a talented martial artist who travels to Thailand where he must learn the secrets of the kickboxer to avenge his brother's death at the hands of Tong Po (Bautista).
The film is produced by Ted Field of Radar Films (RIDDICK, THE LAST SAMURAI), Dimitri Logothetis and Nick Celozzi. Mike Weber and Peter Meyer will executive produce.
"Kickboxer will display a style of acrobatic, rapid-fire martial arts action that Scott Adkins is increasingly becoming synonymous with," said O'Shea, "Along with Tony Jaa, KICKBOXER has compiled a talented cast to push the boundaries of the martial arts form."