Despite Alexander Payne's Wishes, 'Nebraska' Will Be Broadcast In Color On Epix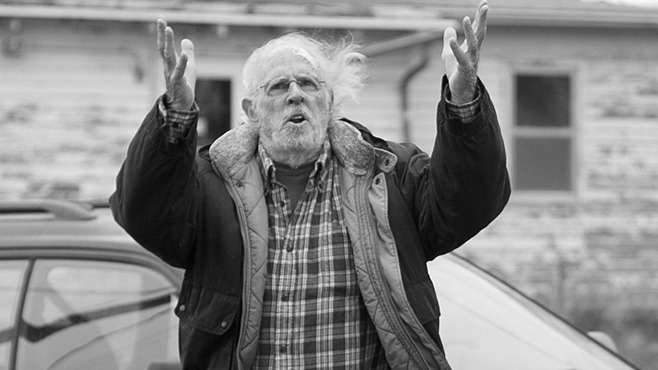 We don't see many new films produced in black and white, and even fewer that get major studio distribution. And even then, there's often a color version kept in reserve for use in certain markets. Such was the case with Alexander Payne's Nebraska, released last winter. Payne had to cut the budget of the film in order to get Paramount to agree to the black and white aesthetic. Cinematographer Phedon Papamichael shot the film digitally, and due to certain TV deals, he and Payne created a color version.  Payne hoped that version would never be seen, but now the Nebraska color version will be broadcast on the Epix network, along with the original black and white version.
Payne told Variety last year,
Eventually I said, 'I'll even give you a colored version for those specific TV outlets in Moldova and Sierra Leone and Laos or wherever.' So I made a color version. I hope no one ever sees it.
TOH quotes an a spot for Epix's upcoming premiere of the film, which says "experience Alexander Payne's masterful black and white vision, and for the first time, Epix brings you the full color version for a limited time showing." In fact, the color version is being touted as a special event bonus; ironic given how Payne didn't want it seen at all. (See the spot at the Epix homepage; an embeddable version is not available.)
TOH talked to Payne and producer Albert Berger, neither of whom were aware that Epix would be showing the color version. Payne "said that their contract with Paramount — which financed and released the film — precluded most major showings, including theatrical and DVD/Blu-Ray – from being anything other than the black-and-white original version."
While the movie was shot digitally, costumes and sets created for the film were designed with a color palette that would be appropriate for the black and white presentation. Payne supervised the color version, as it required specific manipulation to make the colors look as if the movie was created to be seen in color.
Other films that have been seen in both black and white and color versions in recent years include The General, which was B&W in theaters and in color on cable, and released on DVD in both versions; The Man Who Wasn't There, which had a color release on DVD in France (and which the Coens also did not want seen in color); and Sympathy for Lady Vengeance. In that last case, the original film was color, while an alternate "fade to black and white" version started with the bold color of the original and slowly faded to black and white over the course of the film. That version was released in some Korean cinemas, and also on DVD.