'Left Behind' Trailer: Nicolas Cage Fails To Get Raptured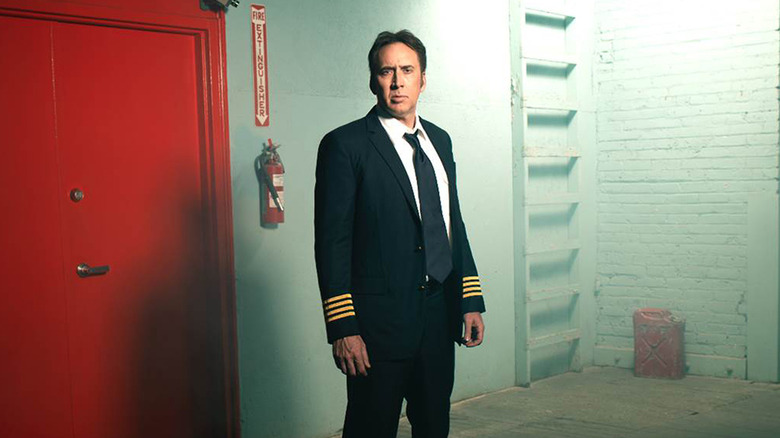 If you've been thinking that HBO's The Leftovers could do with a little more Nicolas Cage, boy are you in luck. Left Behind stars Cage as pilot Rayford Steele, who fails to make the cut when the Rapture hits the Earth. Cue the Apocalypse.
This actually the second cinematic adaptation of the book by Tim LaHaye and Jerry B. Jenkins. The last one was released in 2000 as a straight-to-DVD film starring Kirk Cameron. At least Cage is a step up from that. Hit the jump for more details.
In a way, Left Behind fits in with the current wave of religious epics even better than it does the trend of post-apocalyptic and dystopian pics. The source material is based on the Book of Revelation from the Bible. The religious themes are still very much present in this trailer, though it's still more "mainstream" than the last adaptation was.
Directed by Vic Armstrong, Left Behind opens October 3.
Left Behind is an apocalyptic Action-Thriller movie starring Nicolas Cage based on the New York Times bestselling novel that brings biblical prophecy to life in modern times.
The most important event in the history of mankind is happening right now. In the blink of an eye, the biblical Rapture strikes the world. Millions of people disappear without a trace. All that remains are their clothes and belongings, and in an instant, terror and chaos spread around the world. The vanishings cause unmanned vehicles to crash and burn. Planes fall from the sky. Emergency forces everywhere are devastated. Gridlock, riots and looting overrun the cities. There is no one to help or provide answers. In a moment, the entire planet is plunged into darkness.
The Steele family is caught on the razor's edge of that darkness. RAY STEELE, an airline pilot, struggles to calm, and ultimately to save the lives of the passengers that remain on his flight, as the world below loses its ability to help his plane, and any other to safety. Running out of fuel, his equipment failing, his crew escalating into panic, Ray must guide the plane with the help of GWN reporter, CAMERON "BUCK" WILLIAMS who takes over the role of co-pilot in the face of the crisis. For Buck Williams, being trapped at 30,000 feet with a plane full of terrified passengers means a struggle to understand the incomprehensible.
On the ground, Ray's daughter CHLOE STEELE struggles to find her young brother and mother, both of whom may have disappeared in the Biblical event. Forcing herself through the chaos, Chloe must navigate a world filled with terror and despair.