Vince Vaughn In Talks For 'True Detective' Season 2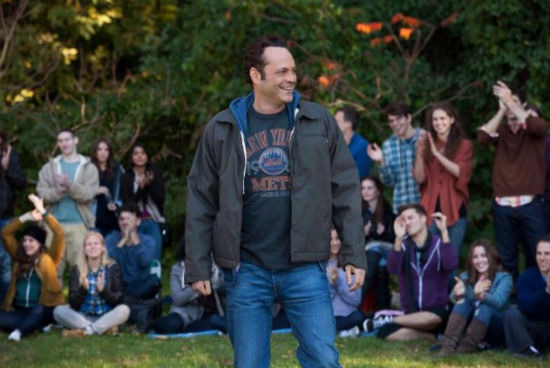 One of Hollywood's biggest actors is in talks to join one of TV's biggest shows. Standing over six feet tall (see what I did there?), Vince Vaughn is in talks to join True Detective season 2. He's up for one of this season's three leads. It's unclear if this is one of the same roles Colin Farrell and Taylor Kitsch were recently circling or another one entirely. Read more of the Vince Vaughn True Detective news below.
TV Line broke the news of Vaughn's potential attachment to the project. The article says the project has three leads but keep in mind that creator Nic Pizzolatto recently amended his early statement about the show's lead structure to say there are actually four.
While we don't know much about the second season of True Detective, we do know a little bit. We know Pizzolatto has turned in scripts for the first few episodes and that it's set in California. Initial reports were it was about "hard women, bad men and the secret occult history of the United States transportation system." However, again, Pizzolatto stepped off that statement recently saying he preferred not to comment on the "transportation system" aspect.
Sounds like the show is evolving steadily as he's writing, and what he thought the second season would be about six months ago is not quite the same now.
What is the same is the creator's penchant for big time Hollywood talent. No matter who gets cast, Vaughn is one of the most recognizable names and faces in Hollywood. Though he hasn't had a massive hit in some time, studios regularly cast him in big, broad, crowd pleasing films like The Internship or Delivery Man. That's probably exactly why he'd be excited by this opportunity. It's a chance to break out of that over-grown-child stereotype and really do some acting.
Would Vince Vaughn potentially being in True Detective season 2 be a bad thing in your mind? Or would you just trust the creative team?