New 'Dirk Gently' TV Series Revisits Douglas Adams' Odd Detective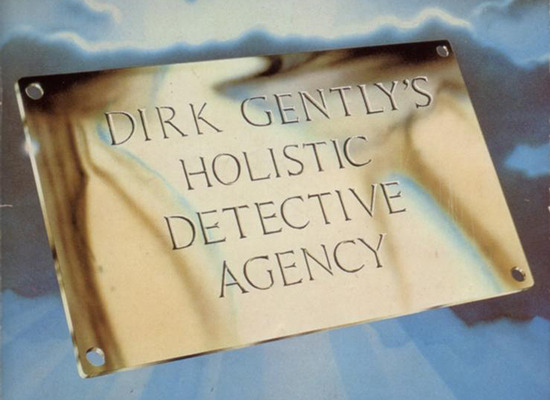 Douglas Adams is best known for his Hitchhiker's Guide to the Galaxy radio plays and novels, but he wrote a lot of other stuff over the course of his productive career. The two Dirk Gently novels are not as famous as the Hitchhiker's books, but they may be even more pure distillations of Adams' personality and interests. The books tell of Dirk Gently (one of the character's pseudonyms) who works out cases based on the "fundamental interconnectedness of all things," and whose cases can involve time travel, impossible physics, systems of divination and old gods.
Now a new Dirk Gently TV series is in development, from IDW and Dave Alpert (The Walking Dead) of Circle of Confusion.
Dirk Gently has been on television before, thanks to the BBC, which ran a pilot in 2010 and three series episodes in 2012.
THR reports details on the show, the pilot for which will be written and exec produced by Max Landis (Chronicle). While Landis has proven to be adept with reworking well-known story concepts (see Chronicle, and his forthcoming Frankenstein movie) he's one of the last people I'd think of to adapt the wry work of Adams, which manages to be understated even when it goes over the top.
Trivia time: One of Adams' abiding interests was Doctor Who, and ideas Adams had for Doctor Who stories occasionally became other things. A Who storyline rejected by the BBC, for example, became the third Hitchhiker's book, Life, the Universe, and Everything. And ideas from two other serials were forged into the book Dirk Gently's Holistic Detective Agency. That was this character's debut; he later appeared in a second novel, The Long Dark Teatime of the Soul.
Landis said in a statement,
Alongside the obvious yada yada I'm a lifelong fan,Long Dark Teatime Of The Soul (the second Dirk Gently novel) is one of the best books ever. Douglas Adams is a visionary who forever changed the way science fiction is written and talked about and even thought about and even the way real actual science is thought about and without whom our culture would be noticeably different for the worse.