LOL: Zack Snyder Tweets Batman Star Wars Photo, But Things Aren't As They Seem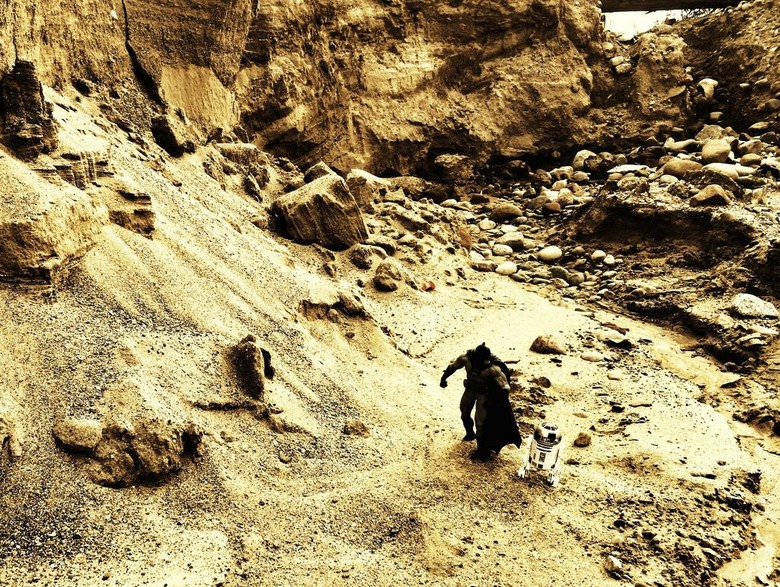 For the second time in as many weeks, Zack Snyder tweeted a photo linking his movie, Batman v Superman: Dawn of Justice, to Star Wars. During Comic-Con, Snyder posted a photo of his Superman, Henry Cavill, dressed as a Sith. Then weekend, he did it again, tweeting a photo of Batman walking on sand dunes with R2-D2. It looks great, almost like Ben Affleck dressed as Batman was posing with the droid. But a second tweet pulled back the curtain to reveal the truth. Check out the Batman Star Wars info below.
First up, here's Snyder's tweet:
BATMAN & R2BIN @bad_robot pic.twitter.com/yWPmGPKJ3f

— Zack Snyder (@ZackSnyder) August 2, 2014
To me, the most interesting part of that tweet is @ messaging Bad Robot. Is Snyder just looking for a retweet from the team behind Star Wars, or is he hoping for something more?
Then, a few hours later, Batman v Superman set photographer offered up this image:
The making of an epic. #iphoneonly pic.twitter.com/7Kv7M8SrcE

— Clay Enos – Bitcoiner/Photographer (@ClayEnos) August 2, 2014
Yes that's Snyder, taking the above photo with his iPhone. And the figures are toys. Too funny.
I kind of love that not only is Snyder perfecting a higher form of fan trolling, but that he actually has Batman and Star Wars toys on set with him.
As for him linking the two franchises, the director was once rumored to be interested in a Star Wars spinoff film. He'll be wrapped up in DC movies for a while now, but who knows? Maybe sometime in the range of 2021 the director will get to a galaxy far, far away.
Did Snyder's photo fool you?