'Guardians Of The Galaxy' - What Did You Think?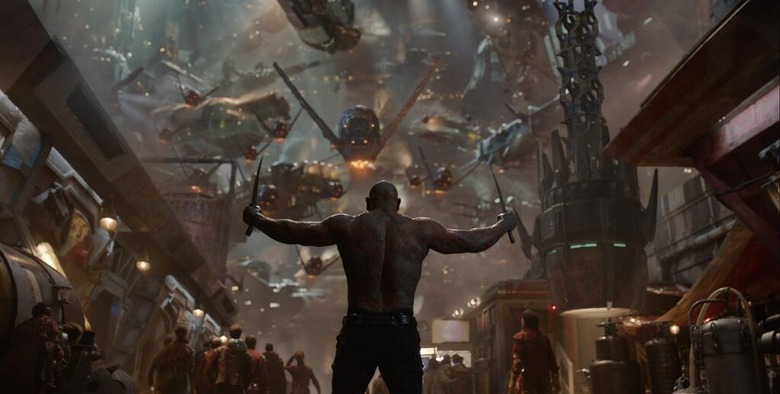 After a couple years of wondering what Marvel's biggest foray into space would look like, we can finally see the results in Guardians of the Galaxy. Many people, us included once in a while, wondered about this space-adventure movie being a risk for Marvel. But the company, along with original screenwriter Nicole Perlman and writer/director James Gunn, has clearly risen to the challenge.
Guardians of the Galaxy is a bona-fide success, and one which stands out from many other summer films by being colorful and fun. We've talked about the film more than enough; now we want to hear what you thought.
After the break, join the big open discussion about Guardians of the Galaxy. Spoilers for all things related to the film are encouraged.
There are things that don't work for me in the film — some jokes feel rushed and stepped-on, bad guy Ronan the Accuser feels like little more than a stand-in for Thanos, and I'm still trying to reconcile this film's vision of Thanos with my own.
But none of that takes away from the fact that the core team of characters are a watchable, engaging and very funny bunch. Rocket and Groot, voiced by Bradley Cooper and Vin Diesel, are the great debut characters, but I loved Dave Bautista as Drax, and there's no denying the star power of Chris Pratt and Zoe Saldana as Peter Quill and Gamora, respectively.
The film looks great, and is one of the few in the last couple years I would wholeheartedly encourage people to see in 3D. The post-conversion work is just spectacular, and with the exception of the planetary home of the Nova Corps, which looks a bit like the biggest Apple Store in the galaxy, this movie is just incredible to look at. The visual spectacle worked for me in a way that stands out from other comic book films, and even other sci-fi movies of the last few years.
So what was your take on Guardians? Were there things that didn't work, or elements that surpassed all others? Do you want to see more of these characters? Sound off below.