Watch Disney Drive-On With The Muppets Episode 1: Walter Gets A Job At Walt Disney Studios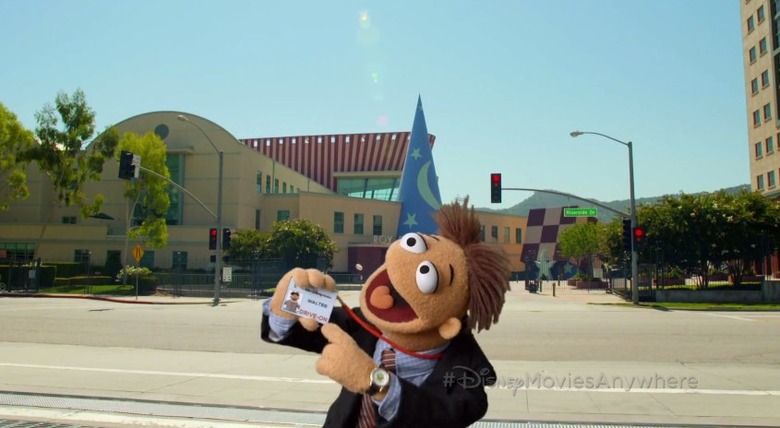 To help promote the home video release for Muppets Most Wanted, Disney Movie Anywhere is premiering a six-part original series called "Disney Drive-On with The Muppets" for a limited time beginning August 1, 2014 (today!).
After being left in charge of the Muppets' office by Kermit, Pepe the King Prawn takes on the responsibility of "mentoring" Walter on the business of Hollywood. Still considered the "new guy" with the Muppets, Walter is given low-level jobs working alongside his fellow Muppets at their office in the famed Walt Disney Studios in Burbank. He quickly learns there is a lot more to making movies than he thought! Developing projects may not always be so glamorous, but Walter is still excited to tackle new challenges, and discovers life on the Disney Lot is certainly a fun and funny adventure.
What happens when Kermit The Frog leaves the office and Pepe the king prawn is left in charge? Watch the first episode of Disney Drive-On with The Muppets now embedded after the jump. It follows Walter's first day working on the Walt Disney Studios lot in Burbank, CA.
Disney Drive-On with The Muppets Episode 1
Two new episodes of Disney Drive-On with The Muppets will be released every Friday, each of them includes some of your favorite Muppet characters and even some special celebrity cameos. Anything that can give me more Muppets is a good thing. Although I'm not sure the title of the series, Disney Drive-On with The Muppets, will be understood by the targeted audience. You see, in Hollywood when you visit a movie studio you need a "drive-on" pass to enter the gate.
Disney Drive-On with The Muppets Trailer
ABOUT DISNEY MOVIES ANYWHERE (DMA):
Disney Movies Anywhere is a cloud-based digital movie service that allows you to browse and watch your collection of Disney, Pixar, and Marvel movies along with bonus material and exclusive videos! You can easily manage your digital movie collection and instantly stream and download your favorite Disney movies across your devices. There are over 400 films available from Disney's rich history and, for the first time ever, you can earn points towards great rewards with your digital purchases and enjoy special clips and features from your favorite movies. It's fun for the whole family! Access Disney Movies Anywhere on your computer through DisneyMoviesAnywhere.com or download the free Disney Movies Anywhere app for your iPhone or iPad, and iPod Touch (iOS 7 required) from the App Store. It's free and easy to sign up!