Sequel Bits: 'Avatar 2', 'Mission: Impossible 5', 'Texas Chainsaw 4', 'Fast & Furious 7'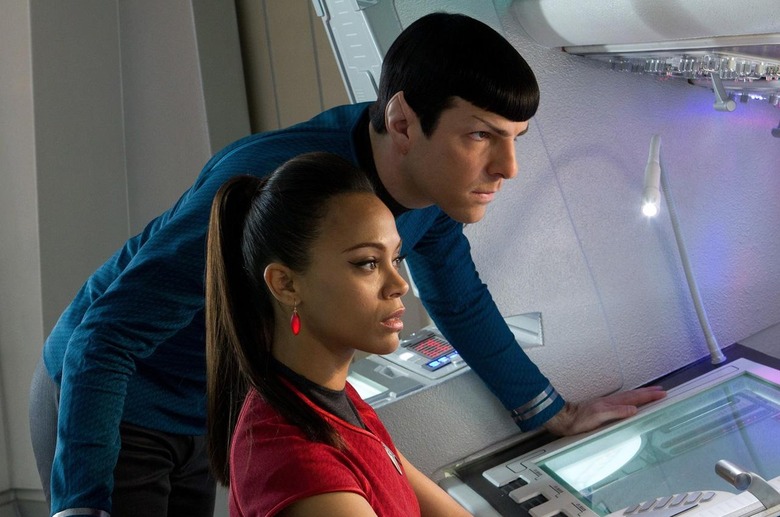 Ever wondered how one might bottle the sweet scent of a Sharknado? Tara Reid has the answer with her new fragrance, Shark By Tara. Really. Also after the jump:
Simon Pegg reveals where and when M:I 5 will shoot
Zoe Saldana talks a tiny bit about the Avatar sequels
Also, Zoe Saldana hopes Spock and Uhura don't break up
The new Texas Chainsaw will follow Leatherface's teen years
Paranormal Activity 5 may be coming in 2015, not 2016
Lorde will curate the Hunger Games: Mockingjay soundtrack
Iggy Azalea will have a cameo in Fast & Furious 7
William Shatner might make an appearance in Ted 2
We're all ready to go on August 24, which is what I'm being told. Which is why I'm here doing a little press right now, and I'm available – because I might become unavailable very soon. As far as I know, we're all set to go. We've got location work first, and then the bulk of the filming will be in Leavesden [Studios], north of London. It's a nice one for me, to be near home.
Mission: Impossible 5 is set for December 25, 2015.
Similarly, Zoe Saldana may not know much about the storyline of Avatar 2, but she at least knows where and when it's shooting.
James Cameron is still working on the final drafts of the script and then everyone in the cast will get the call. We're going to be shooting mainly in Los Angeles and that will make things easier for me since I live there. Because we're doing the sequels back-to-back and it's going to take at least eight or nine months or more to finish the (three) films.
Avatar 2 will supposedly hit theaters in December 2016, followed by Avatar 3 a year later and Avatar 4 a year after that. Supposedly. [Mirror]
Separately, Saldana also spoke about her hopes for Star Trek 3. Recently, a journalist asked whether she hoped Uhura would break up with Spock and "just be part of the team again." Which is a strange question, since a romance with Spock shouldn't preclude her being part of the team, but Saldana took it in stride.
I don't know. They have such a special bond. It would be nice to see Uhura do more stuff, but I feel that JJ [Abrams] and his team of writers did such a great job in the sequel and I am pretty sure for this third installment we will see [Uhura] be more hands on as well. It would be heartbreaking for me to know that they would break up and not be together.
Roberto Orci is expected to direct Star Trek 3, which doesn't yet have a release date. [IGN]
Following earlier reports of its possible demise, Texas Chainsaw 4 appears to be back on track with a prequel storyline. Lionsgate is reportedly in talks to make the movie, which will follow Leatherface through his teenage years. Because if Hannibal Lecter, Norman Bates, and the freaking Overlook Hotel are getting origin stories, it's only fair that Leatherface get one too. [Bloody Disgusting]
Paranormal Activity 5 was originally supposed to open in 2013, and then 2014, before Paramount finally pushed it all the way back to 2016. But now it may get pulled back up a bit. The studio is rumored to be fast-tracking the horror sequel for an October 2015 release. [Bloody Disgusting]
Lorde's first hit single was all about denouncing conspicuous excess, so it seems kinda fitting that she'll work on a movie that does the same thing. She'll contribute a single for The Hunger Games: Mockingjay — Part 1, as well as curate the rest of the soundtrack. [Billboard]
Iggy Azalea is ready to make the leap from music to movies. The "Fancy" rapper has a cameo in Fast & Furious 7, as revealed by star Vin Diesel in a recent interview. She's not the only musician in the movie. Singer Romeo Santos is also set to appear, and rapper Ludacris is a series regular. [Movie Web]
It seems John and Ted may be making a famous friend in Ted 2. William Shatner is said to have a cameo as himself in the comedy sequel. He's invited to appear at a superhero fan convention to answer questions about his role in T.J. Hooker, only to get annoyed when the audience keeps inquiring about Star Trek. [Boston Herald]
Sharknado made a big splash last summer, and Sharknado 2: The Second One made an even bigger one this summer. The sequel pulled in four million viewers — almost three times as many viewers as the original — to become the most-watched original movie debut in Syfy history. The network also boasts that it's "the most social movie on TV ever," whatever that means. Can a Sharknado 3 be far behind? [THR]
The new Sharknado was tough on poor Tara Reid, but the actress clearly hopes it'll be a boon to her fragrance sales. Yeah, that's right: Reid has released a new perfume called Shark By Tara, described as smelling like "plethora of 'lavender' colored flowers." Well, that probably beats smelling like an actual Sharknado. [The Cut]