'Star Wars Rebels' And 'Clone Wars' Director Dave Filoni Open To Helming Spin Off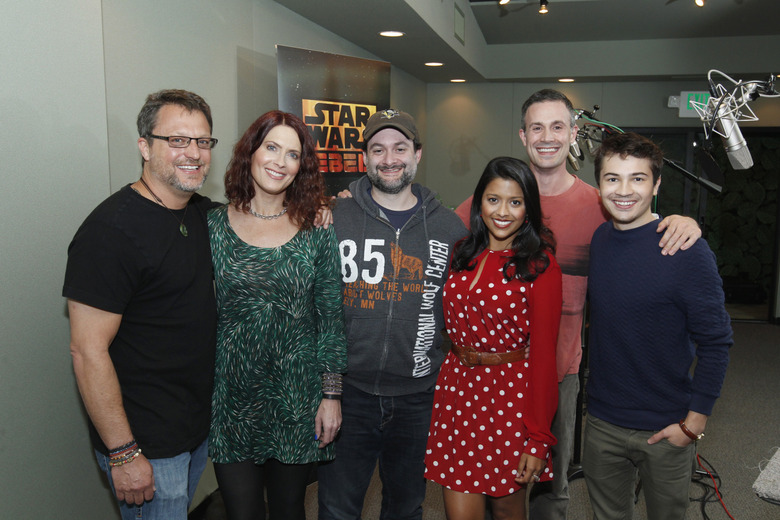 Star Wars was born from George Lucas. Right below him on the influence list, however, is Dave Filoni. Before J.J. Abrams took a stab at the series, Filoni was only the fourth person to direct a Star Wars film (Star Wars: The Clone Wars). He was showrunner on all six seasons of the show, which many people feel is leaps and bounds more exciting than Lucas' prequel films. Now he's an executive producer on Star Wars Rebels, a role that will let him work in a fertile and important time in Star Wars history.
While Filoni (above, center) and his team work on the animated TV show, men like Abrams, Rian Johnson, Gareth Edwards and Josh Trank are all getting to direct live action Star Wars movies. One would think Filoni, a walking Star Wars encyclopedia, super-fan, and the person primarily responsible for keeping the franchise relevant for the past decade, might want to get in on the fun.
If all goes according to plan for Disney, they'll be releasing a Star Wars movie every year for the foreseeable future. So, when I sat down with Filoni to talk about Star Wars Rebels, I asked him if he would be interested in helming a spin-off. His answer was not surprising. He'd be honored to, especially since he's already talking to Johnson and Edwards about their films. Read the Dave Filoni Star Wars spin-off question below.
This is one excerpt of our interview with Star Wars Rebels executive producer, Dave Filoni. We'll have more soon.
/Film: For the next few years, you obviously are concentrating on Star Wars Rebels.  But is a Star Wars spin-off movie something you'd want to do? Would you want to get in line to direct whether it be a Rebels movie or some random spin-off movie 10 years down the road?   Dave Filoni: Oh, of course. That's a selfish thing to say, but of course. I mean, if I were to get an opportunity like that A, I wouldn't turn it down. B, I would see it as a great honor to do it. And I would apply all my Jedi knowledge to doing it as best I can. When I see these spin-offs happening, I've got definitely more than a few ideas of things that I would love to see finished and some things that makes them, I think, personally great stories.
So right now I am focused on Rebels and I've got a brilliant crew working on that. And I'm excited for Gareth and you know what he's gonna do. I'm excited for Rian and J.J. and what they're doing. It's kind of nice to have other really big head creatives working on Star Wars now. I can definitely empathize with them, with the pressure and the struggles. And, you know, I've got Simon working with me and he's been fantastic. So we've got this great community of creatives now for the first time in Star Wars.
You know, the writers weren't even up at the Ranch when we did The Clone Wars. They were all down in L.A. working satellite. So it was really George and I there all the time and it's just fun to have these other guys. I'll see them come up on continuity problems and I'm just like "Ha, ha, ha, yeah, I've been there. It's great, isn't it?" But the main thing I tell them is what a wonderful experience it's truly gonna be and how the Star Wars fan community yes, they're particular, yes, they know their stuff, but they love it and they've always embraced what we've done, but they challenge us and they should. They should challenge us to do new things and exciting things and, you know, that's when our job is done its best.
_____
Honestly, if you're Kathleen Kennedy, the only reason you don't hire Filoni immediately is you want him to do years of wonderful, canon-expanding storytelling on Star Wars Rebels. Hiring him for a live action movie might distract from that goal. But there is literally no one in the world more qualified to direct a Star Wars movie. Maybe Filoni for Episode IX?
Filoni's next work, Star Wars Rebels, debuts in October on Disney XD. We'll have more from this interview soon.