'The November Man' Trailer: Pierce Brosnan Channels James Bond In Spy Thriller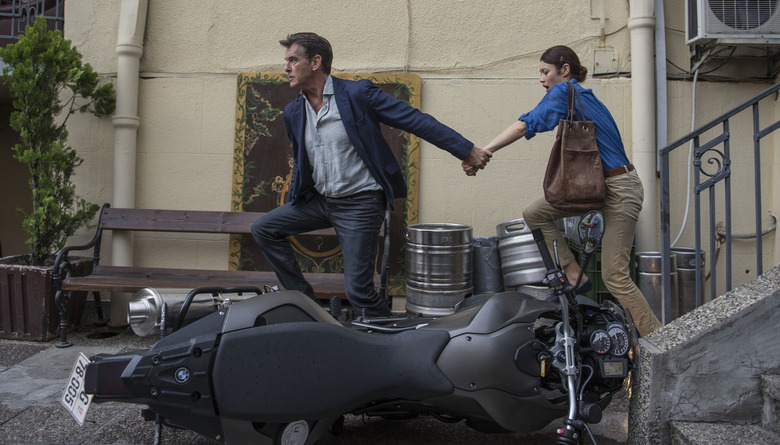 Even though Pierce Brosnan only did four James Bond movies, and maybe only one great one, he'll forever be connected to the character. Whenever he plays a role with any kind of Bond connotation, it almost feels like another adventure of 007. The Thomas Crowne Affair and After the Sunset are two examples and now there's a third: The November Man.
Directed by Roger Donaldson (Species, Cocktail), it tells the story of a retired CIA man (Brosnan) forced back into action when an important asset (Olga Kurylenko) is threatened. The hunt makes him the target of the people he was once sworn to protect.
Based on the November Man book series by Bill Granger, The November Man opens August 27. Watch the second, and full, November Man trailer below.
Here's the full November Man trailer.
November Man trailer
Directed by Roger Donaldson, The November Man stars Pierce Brosnan, Luke Bracey, Olga Kurylenko, Eliza Taylor, Caterina Scorsone with Bill Smitrovich and Will Patton. It's written by Michael Finch and Karl Gajdusek, based on the Book There Are No Spies by Bill Granger. It opens August 27. Here's the official plot description:
Code named 'The November Man'; Peter Devereaux (Pierce Brosnan) is an extremely dangerous and highly trained ex-CIA agent, who is lured out of quiet retirement on a very personal mission.  He must protect valuable witness, Alice Fournier, (Olga Kurylenko) who could expose the truth behind a decades old conspiracy. He soon discovers this assignment makes him a target of his former friend and CIA protégé David Mason (Luke Bracey). With growing suspicions of a mole in the agency, there is no one Devereaux can trust, no rules and no holds barred.
With a screenplay by Michael Finch & Karl Gajdusek based on Bill Granger's novel "There are No Spies" from the bestselling November Man book series, THE NOVEMBER MAN is the ultimate cat and mouse game set in the world of international espionage. Directed by Roger Donaldson (The Bank Job, No Way Out, Thirteen Days), the film is produced by Beau St. Clair of Irish DreamTime and Sriram Das of Das Films.