New 'Interstellar' Trailer Explores The Wonders Of Space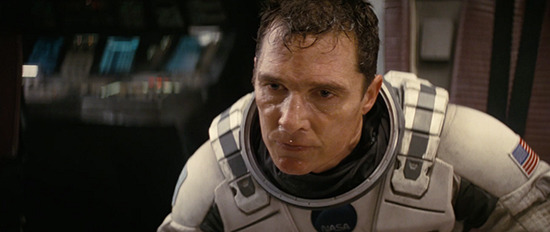 Here's the second full trailer for Christopher Nolan's new film Interstellar. This is what we saw at Comic Con last week, and it shows so much more of the journey into space, and also of the Kubrick influence that plays heavily on parts of the film. We see more of the problems that plague Earth, and which lead to that journey. We also see more of Matthew McConaughey as he explores reaches far away from Earth, and get more of an idea of the toll that takes on him. But more than anything else, we see a stunning depiction of the universe. Watch the new Interstellar trailer below, hopefully on the biggest screen you have handy.
You can see a better HD version at interstellarmovie.com, by putting the access code 7201969 in at the prompt, or get a direct link to the 1080p version here.
You can see why we loved this trailer at Comic Con, and also why we were reluctant to jump to too many conclusions about what some of this footage really means. I'd expect this trailer has been rather skillfully cut to lead to one or two interpretations that aren't actually correct about the film. And we love that misdirection; it allows the trailer to show some wondrous stuff without actually giving away the importance of those shots within the film.
Now aren't you dying to see this projected in 70mm IMAX? This may be worth a road-trip for spectacle alone.
Interstellar stars Matthew McConaughey, Jessica Chastain, Anne Hathaway, Casey Affleck, Matt Damon, Michael Caine, Ellen Burstyn, John Lithgow, and Topher Grace. It opens on November 7.
Interstellar chronicles the adventures of a group of explorers who make use of a newly discovered wormhole to surpass the limitations on human space travel and conquer the vast distances involved in an interstellar voyage.