First 'Hateful Eight' Poster From Quentin Tarantino Confirms 2015 Release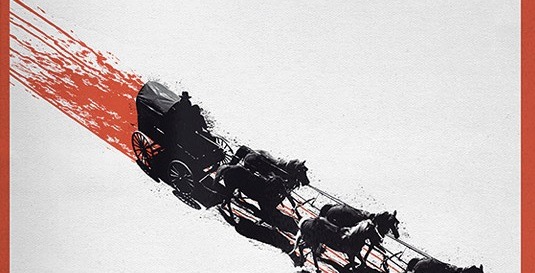 The last eight months have been an awfully bumpy ride for Quentin Tarantino's The Hateful Eight. First it was leaked, then cancelled, then revived for a live reading. Then over the weekend Tarantino confirmed the movie was back on for good, and now the first Hateful Eight poster has arrived to add that the film is coming in 2015. Hit the jump to check it out.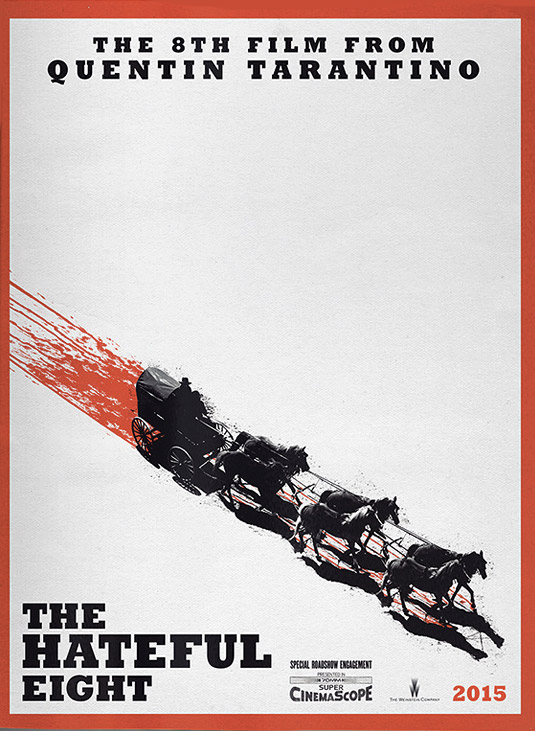 And here's the plot synopsis.
The Hateful Eight follows the steadily ratcheting tension that develops after a blizzard diverts a stagecoach from its route, and traps a pitiless and mistrustful group which includes a competing pair of bounty hunters, a renegade Confederate soldier, and a female prisoner in a saloon in the middle of nowhere.
The Hateful Eight poster is simple, striking, and classic. In keeping with the film's Western genre, we get a black stagecoach pulled by six black horses across a snow-white background, leaving a smear of bright red blood in its wake. There's a vague promise that it'll open in 2015 and shoot in Super CinemaScope (70mm), but that's about it.
There's no catchy tagline, or any mention of the stellar cast — which, last we heard, included Bruce Dern, Walton Goggins, Samuel L. Jackson, Michael Madsen, and Kurt Russell. But at this point, Tarantino's fans are probably just happy to see that the project exists at all.
The word is that Tarantino plans to start shooting The Hateful Eight in early 2015, which suggests the movie will be in theaters in late 2015 — perhaps in the same Christmas Day slot that Django Unchained got in 2012. That wound up picking up a couple Oscars, so we wouldn't be surprised if the Weinsteins wanted to take The Hateful Eight all the way next year.