'Guardians Of The Galaxy' Animated Series Coming To Disney XD; Watch Full Comic-Con Panel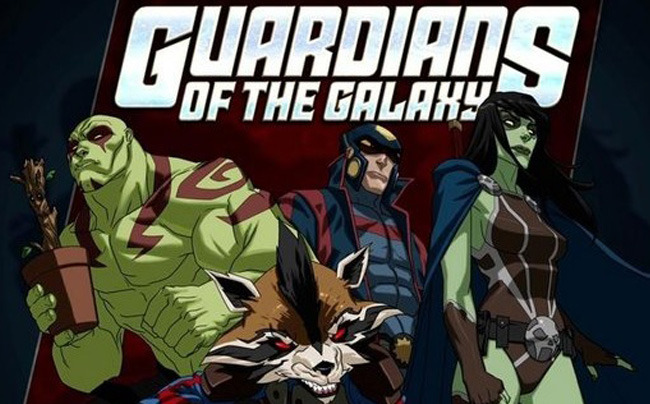 Most people don't know where Disney XD is on their television channel lineup, but that's going to change soon. That's not only where Star Wars Rebels will debut later this year, but also the home for a Guardians of the Galaxy animated show. There's no word on exactly when it'll air, but it's a show that's been in the works for a while. The characters have been appearing on other Marvel Animation shows for some time in preparation.
With the announcement, about one minute of footage was screened at Comic Con, and we have a description of the debut. Read more about the Guardians of the Galaxy animated series below and watch the full Marvel Animation Panel.
Deadline was in the Marvel Animation panel at Comic Con where Marvel Animation VP Stephen Wacke debuted the footage. Geek Magazine has a brief description.
The 60-second clip opens to a futuristic city scape, with Rocket Raccoon evading a laser shooting probe. Rocket jumps off a tall structure, rolling on his back as he blasts the probe. An unseen voice says "Hey, fuzzy," and is revealed to be Star-Lord.  "if we're going to be hanging out together you're going to need bigger blasters." The scene fades to the Guardians of the Galaxy logo.
The Guardians of the Galaxy film opens this week, and if all goes according to plan, should make its characters into household names by Monday. That's why Marvel Studios already announced a sequel for July 2017, in addition to this animated series. It'll be a great way for fans – especially younger ones who don't live on the internet – to continue to engage with these characters as James Gunn sits down to write and eventually direct the continuing adventures of Star Lord, Gamora, Rocket Raccoon, Groot and Drax the Destroyer.
We'll keep an eye out for more news on the Guardians of the Galaxy animated series, but for now here's the full Marvel Animation Panel.