UPDATE: 'Star Wars Rebels' Will Premiere October 3; Regular Series Starts October 13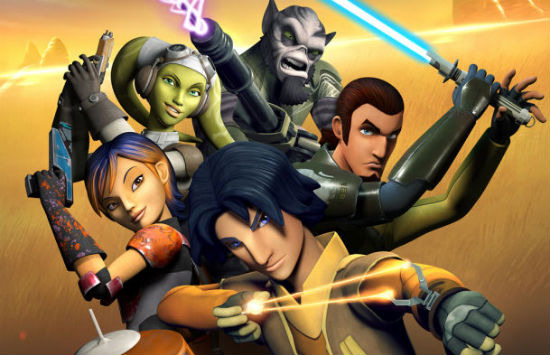 UPDATE: Disney has officially announced that Star Wars Rebels will premiere on Disney Channel October 3 and the full series will start October 13 on Disney XD. Original article follows, full press release after the jump.
One of the biggest mysteries regarding the new Disney cartoon Star Wars Rebels hasn't had anything to do with Jedi, Sith, or new characters. We've just been wondering when we'd get to see it. At Comic-Con, the news was quietly leaked that the first episode (for which you can watch our full review here) will premiere in October 2014. Lucasfilm and Disney have not settled on a specific Star Wars Rebels release date just yet, but will do so in the new few weeks. That premiere will be in October, on the Disney Channel, before moving to its regular spot on Disney XD. Below, read more about Star Wars Rebels and watch a few new clips.
UPDATE: Here's the full press release on the Star Wars Rebels release date, followed by the original article:
Continuing the epic tradition of the legendary Star Wars saga, an exciting animated one-hour movie "Star Wars Rebels: Spark of Rebellion" will be available first to verified users onWATCHDisneyXD.com and the WATCH Disney XD app beginning  MONDAY, SEPTEMBER 29 
WATCH Disney XD allows consumers to watch on tablet, phones, computer and set top boxes. 
The global television debut of "Star Wars Rebels: Spark of Rebellion" is set for FRIDAY, OCTOBER 3 (9:00  p.m.,  ET/PT  in  the  U.S.) on  Disney  Channels  around  the  world, ushering  in  the series  "Star  Wars  Rebels"  beginning  MONDAY, OCTOBER 13 (9:00 p.m., ET/PT) on Disney XD.  The series will air in 34 languages across 163 countries in over 400 million households.
The television movie garnered rave reviews at last month's San Diego Comic-Con fan event for its story (set between the events of Star Wars Episodes III and IV) and its look — akin to the classic Star Wars trilogy.  The series designs are influenced by the work of original Star Wars concept artist Ralph McQuarrie.
The story unfolds during a dark time when the evil Galactic Empire is tightening its grip of power on the galaxy. Imperial forces have occupied a remote planet and are ruining the lives of its people. The motley but clever crew of the starship Ghost – cowboy Jedi Kanan, ace pilot Hera, street-smart teenager Ezra, the "muscle" Zeb, warrior firebrand Sabine, and cantankerous old astromech droid Chopper – is among a select few who are brave enough to stand against the Empire. Together, they will face threatening new villains, encounter colorful adversaries, embark on thrilling adventures and become heroes with the power to ignite a rebellion. 
"Star Wars Rebels" is created by Dave Filoni (Star Wars: The Clone Wars), Simon Kinberg (X-Men: Days of Future Past, Sherlock Holmes), and Carrie Beck. The Lucasfilm Animation production is also executive-produced by Filoni and Kinberg as well as Greg Weisman (Gargoyles).
The talented voice cast includes Freddie Prinze Jr. as Kanan, Vanessa Marshall as Hera, Steve Blum as Zeb, Tiya Sircar as Sabine, Taylor Gray as Ezra, David Oyelowo as Agent Kallus and Jason Isaacs as the Inquisitor.
The multi-platform schedule in the U.S. is:
MONDAY, SEPTEMBER 29
"Star Wars Rebels: Spark of Rebellion" one-hour movie will be available to verified users on WATCHDisneyXD.com and the WATCH Disney XD app for smartphones and tablets. It will also be available on Disney Channel SVOD.
FRIDAY, OCTOBER 3
Premiere telecast of the one-hour movie "Star Wars Rebels: Spark of Rebellion" (9:00 p.m., ET/PT) on Disney Channel.
SATURDAY, OCTOBER 4
"Star Wars Rebels: Spark of Rebellion" will be available on Disney XD VOD and for purchase through Apple iTunes, Amazon Instant Video and Google Play.
MONDAY, OCTOBER 6
"Star Wars Rebels: Spark of Rebellion" (8:00 p.m., ET/PT) premieres on Disney XD.
MONDAY, OCTOBER 13
"Star Wars Rebels" (9:00 p.m., ET/PT) series premieres on Disney XD.
TUESDAY, OCTOBER 14
"Star Wars Rebels: Spark of Rebellion" will be available to own on DVD in retailers nationwide. The DVD includes the movie, a free Ghost 3D model ship, four "Star Wars Rebels" shorts, plus a never-before-seen piece that takes you deeper into the world of "Star Wars Rebels" and the upcoming season.
Here's our original article on the release date:
Besides our reaction to the first episode, Lucasfilm also revealed the following clips at Comic-Con. We ran them previously, but figured we'd do it again just in case you missed them.
While at San Diego Comic-Con, not only did we get to see the first mini-movie for Rebels, we got the unique chance to sit down and chat with two of the most important people in Star Wars Rebels: producers Dave Filoni and Simon Kinberg. While the pair are both primarily working on Rebels, Filoni has been making Star Wars content longer than almost anyone not named George Lucas. He's seen as one of the godfathers of Star Wars at Lucasfilm and has an intimate knowledge of what's going on with the franchise.
The same can be said for Simon Kinberg, but in other ways. While he's producing and writing Rebels, he also wrote/is writing one of the Star Wars spinoff movies and is a consulting producer on Star Wars Episode VII. He's also working on/developing a few other things not Star Wars related (X-Men, Fantastic Four, Magic the Gathering, Chappie.)
Later this week, we'll have interviews with both these men discussing some of your biggest burning questions in regards to Rebels, but also Star Wars in general.
As stated above, Star Wars Rebels will debut in October. Here's the official description:
The Jedi have been wiped out and the Empire spreads tyranny through the galaxy. Hope runs thin. But on the small planet of Lothal a big change is looming. A group of rebels meet a 14-year-old con artist named Ezra and soon it's clear their destinies are linked. Aboard their ship, the Ghost, Ezra and the rebels embark on an adventure to ignite a rebellion and strike back against the Empire.