Quentin Tarantino Confirms 'The Hateful Eight', Wants To Do Sci-Fi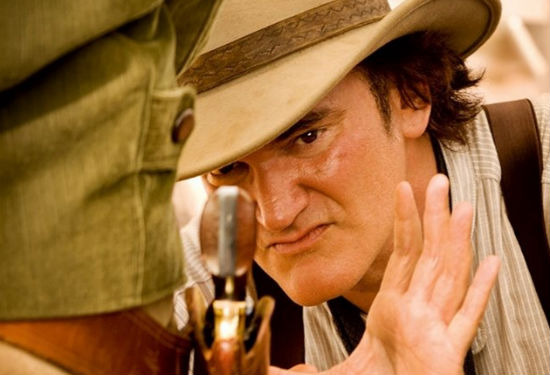 Quentin Tarantino called off his plans to make The Hateful Eight the moment we found out about them, but over the past few months it seems like he's slowly been warming to the project once more. Then this weekend at Comic-Con, he finally confirmed that the film is back on.
And this being Tarantino, of course he doesn't just have one project in the works. He also revealed that he's mulling over a sci-fi project, though it's in its early stages still. Hit the jump to get the dirt.
Tarantino had cancelled The Hateful Eight after pages from the screenplay leaked, furious about the betrayal of his trust. But one (eventually withdrawn) lawsuit, one live reading, two drafts, and several rumors later, he's apparently had a change of heart.
After some hemming and hawing, he gave the audience member a solid response. "Yes, we are going to be doing The Hateful Eight," he said. "All for you. We weren't sure about it but I just decided just now."
Another audience member asked Tarantino whether he'd do sci-fi, to which he gave an intriguing reply.
If you had asked me a few years ago I would have said: "Nah, not really, I don't know." But i have a little idea right now. It's a little flower, you know, like a bean sprout, but those tend to grow into stalks. So this is the first time I'll be able to say "maybe". It won't be a spaceship sci-fi, it'll be Earthbound.
There's no telling when we'll actually see this sci-fi movie, but just the idea of Tarantino crossing over into the sci-fi genre is an interesting one. We're sure he'll find a way to put his own delectably R-rated spin on some familiar tropes.
[Source: Collider, The Guardian]