New Red Band 'Sin City: A Dame To Kill For' Trailer Plus Comic-Con 2014 Panel Recap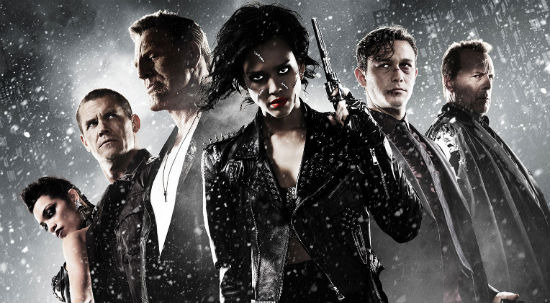 UPDATE: We've added the new, red band Sin City: A Dame to Kill For trailer to this post, which played at the end of the panel. Full panel coverage remains.
Robert Rodriguez and Comic Con go together like Spielberg and sharks. The two are forever linked because of the memorable panels he's had on multiple films, primarily the first Sin City. Well Rodriguez was back this year with Frank Miller's Sin City: A Damn to Kill For and he brought along his co-director and three of the film's stars: Josh Brolin, Rosario Dawson and Jessica Alba.
They showed a huge chunk of the beginning of the film, "Just Another Saturday Night," and did a very interesting Q&A. Below, read a description of the opening scene and five cool things we learned at the Sin City 2 Comic Con panel.
Sin City A Dame to Kill For Red Band trailer
Here are the five cool things we learned on the Sin City 2 Comic Con panel
1. Mickey Rourke and Josh Brolin never acted together –  Though their characters are in multiple scenes together, the actor's schedules never matched. So they shot their scenes against a green screen, reacting to footage of the other's performance (or, more accurately, Brolin reacted to Rourke because he did his part first.) Rodriguez said it was inspired by a story he heard where Ricardo Montalban shot his scenes in The Wrath of Kahn by himself and after seeing them, Shatner upped his game.
2. Rodriguez's score was was written on an iPhone – The director said 80% of the film's score was written using the voice memo app on his iPhone. He'd wake up in the middle of the night or something, mention a scene and then hum all the different parts of the music into the phone. The next morning he'd find the notes on the keyboard and write it up.
3. Jessica Alba is a warrior – In the film, Nancy takes things into her own hands as a badass. To do so, she showed up on set mean and prepared. Frank Miller said when he first saw her again, "I haven't seen Jessica in 8 years, how did I piss her off?"
4. This film will have more color – Though Sin City is mostly in black and white, they shoot it in color and then remove it. This time around, they left a lot more in.
5. Both Frank Miller and Robert Rodriguez have cameos – In a final little montage/sizzle reel, you saw both of the films directors in small roles, both looking beat up in an alley.
But the highlight of the panel had to be the full, opening of the movie, featuring Mickey Rourke in Just Another Saturday Night. I'll hand off to Angie:
Marv comes to on a street, surrounded by crushed glass, twisted metal, and a car on fire. He immediately realizes that something has gone horribly wrong, but is unable to remember what exactly it was. So he downs a handful of pills (to treat an unspecified "condition") and starts surveying the wreckage for clues.
Among other things, he comes across a young man's corpse. From there, he begins to piece together the events of the evening, and we watch it unfold as he narrates in his gruff, almost Batman-y voice. "Just another Saturday night..." he muses.
Marv deduces that he began the night at the bar, but in such a funk that even seeing Nancy (Jessica Alba) dance can't cheer him up. He winds up sitting outside on the sidewalk, swigging liquor straight from the bottle.
Suddenly he notices a group of well-dressed young man attempting to burn an unknown victim. He tries to stop them, but the boys respond by shooting at him. He's perversely cheered up by this because now that he knows they're "bad guys." It's his "civic duty" to go after them.
He jumps on the front of a police car and breaks the glass, hijacks it, and chases the boys to the Projects. He muses that he could just let his old neighbors "take care" of them, "but why should they have all the fun?" He asks that as he sets lets two cars from the opening explode.
Fans of the first Sin City will be pleased to hear that Sin City: A Dame to Kill For is much of the same. The sequel has the same stark, simple, black-and-white look of the original. At points it looks more like an animated comic book than a movie, for better or for worse.
Mickey Rourke also seems to be in fine form as Marv, and Jessica Alba is as alluring as ever as Nancy (even if, as Alba said during the panel, Nancy is no longer the innocent victim she was in the last movie). Really, what feels most different about Sin City is all of this can't help but feel less fresh the second time around.
Frank Miller's Sin City: A Dame to Kill For opens August 22.