Batman V Superman Teaser Trailer Description [Comic Con 2014]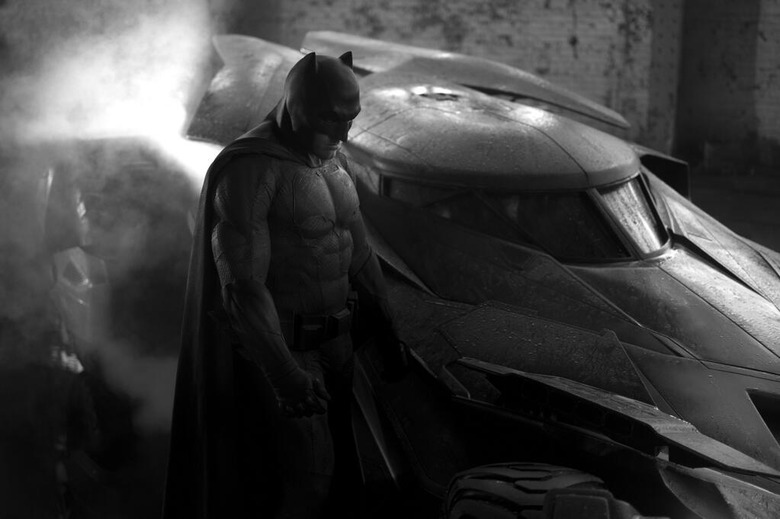 Saturday during the Warner Bros presentation at 2014 San Diego Comic Con International, director Zack Snyder showed up at the Hall H panel. Snyder said that he was shooting the Man of Steel sequel Batman V Superman: Dawn of Justice last night, but jumped on a plane to come to Comic Con. Snyder then showed a short little teaser for the film featuring some iconic imagery. Read a Batman V Superman: Dawn of Justice teaser trailer description after the jump
The short teaser opens with Batman in a full armor suit from Frank Miller's The Dark Knight Returns. Here is a look at the toy version of that design: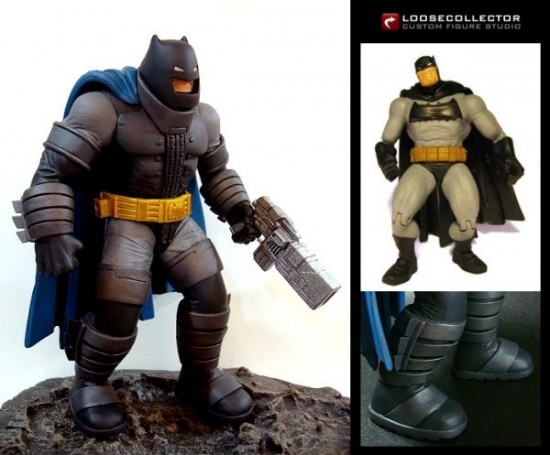 Glowing eyes, very mechanical, it's pouring rain He pulls down a lever on something and we realize it's the Bat Signal. It has the new Batman logo (reminiscent of the one from Miller's comic). The camera slowly pans up to reveal the signal projected in the air but right in the middle of it: Superman. He's illuminated in the sky amongst the pouring rain with his red glowing eyes. Cut back to Batman, staring right back at Superman with his blue glowing eyes and we cut to the logo.
I can't express to you how awesome the teaser looked. It looked like the Frank Miller comic come to life through the lens of Zack Snyder.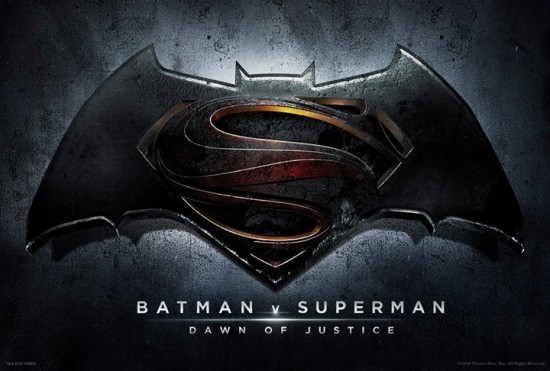 Starring Henry Cavill in the role of Clark Kent/Superman, Ben Affleck as BruceWayne/Batman, Gal Gadot as Diana Prince/Wonder Woman,  Jesse Eisenberg as Lex Luthor, Jeremy Irons as Alfred, and Holly Hunter in a role newly created for the film, with Amy Adams, Laurence Fishburne and Diane Lane returning from Man of Steel.
Batman v Superman: Dawn of Justice is written by Chris Terrio, from a screenplay by David S. Goyer. Charles Roven and Deborah Snyder are producing, with Benjamin Melniker, Michael E. Uslan, Wesley Coller, David S. Goyer and Geoff Johns serving as executive producers.
Batman v Superman: Dawn of Justice is scheduled to open worldwide on May 6th, 2016.