Mark Hamill Stars In First Scene Of 'Kingsman: The Secret Service;' Watch The Full Panel [Comic Con 2014]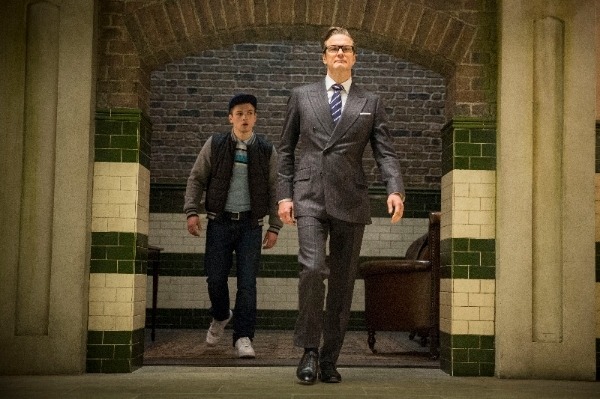 Months of speculation were answered Friday night at Comic-Con when Mark Hamill finally appeared on screen. It was not, however, for that little sci-fi movie he's making. It was to introduce a new clip from Kingsman: The Secret Service, Matthew Vaughn's latest film adaptation of a Mark Millar comic book. Hamill has a small role in one of the film's opening scenes and they played the whole thing during the panel. Read about the Kingsman: The Secret Service Comic Con panel below.
Update: The full panel (minus footage) is online; watch below.
"The way Kick-Ass was a love letter to superheroes, this is a love letter to spy movies." That's how writer Mark Millar described the film before launching into a funny video featuring director Matthew Vaughn, who was not present because of an illness, and co-star Mark Hamill. Vaughn was wearing a Kick-Ass mask and Hamill a Hit Girl wig. Hamill joked about being in town to film a low budget indie film but was beyond excited to work with the likes of Samuel L. Jackson and Michael Caine. He then introduced a clip from the film, which was made to sound like the opening of the movie.
The scene beings with a sweeping helicopter shot on a snowy mountain. We crane in on a beautiful wooden cabin. Inside, Mark Hamill's character, Professor Arnold, is being held hostage. The captors explain this isn't about money, their boss just wants to talk to him. They want him to feel comfortable and ask if he likes whiskey. He does and they promise this nice, 1962 aged whiskey will "make you shit" it's so good.
Suddenly, a knock as the door. Everyone is curious who could this be in such a remote location. They open the door and a dapper man is standing there played by a vaguely familiar British actor. It's not Colin Firth though. Immediately this man starts shooting up the place, putting people in martial arts holds and generally kicking ass. "I'm here to take you home, Professor." He kills the last man, takes that '62 whiskey and says it would be a shame to spill this. At that moment, another knock at the door and as the spy turns his head, something seemingly slices him in two. The camera pans around and we realize he literally has been. His body limps to the floor and a beautiful young assassin with knives for feet grabs the whiskey before it hits the ground. She puts it down, runs up the stairs and back down with a bunch of sheets and blankets. "Can you hold these, please?" She asks the professor. He's confused and terrified but he agrees. She takes each sheet and lays them over each dead body.
Then, a second knock at the door. The knife girl opens it and we see Samuel L. Jackson, all decked out. She hands him the whiskey, he happily drinks it and we realize this is the boss we've been waiting for. He explains that he doesn't have the stomach for violence and literally gets sick as the sight of blood. He's talking in a weird lisp and the scene ended.
The Q&A afterwards was pretty short, but one of the most interesting bits was that Samuel L. Jackson said he always wanted to be in a James Bond movie and saw this as an opportunity to do something similar. That lead into a final clip which was more of an extended trailer which starts with Jackson's character talking to Firth's character about Bond movies. Jackson's character said he always wanted to be Bond while Firth's character always thought the villains were better. Then it went into a slick, action-packed trailer set to The Doors "Break  on Through." 
I think Kingsman: The Secret Service has the potential to be very special. Vaughn's action and Millar's ideas have always been happy partners and this looks like more of the same.
(Note: They also showed the clip we described in this article).
Here's the panel: