Kevin Smith Reveals Plans For 'True North Trilogy' Beginning With 'Tusk' [Comic Con 2014]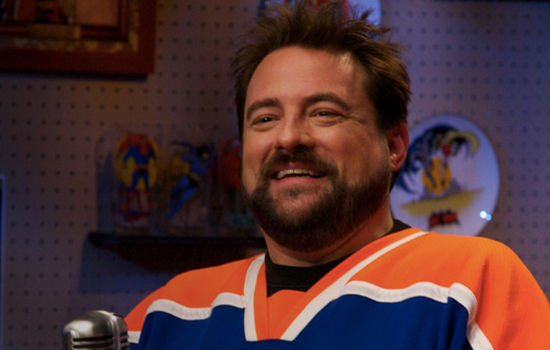 By now, you've probably seen the trailer for Kevin Smith's Tusk. And if not, click here and check it out. Revealed in Smith's annual Hall H panel at Comic-Con, the footage shows a very different Smith from the "snoochie boochies" days of the past. This is a Smith with something messed up to say. And, according to the writer/director/podcaster, he's going to be saying much more of it.
On his panel, Smith also revealed Tusk is the first film in what he hopes will be a trilogy of films he called "The True North Trilogy." Likely a reference to a similar Canadian setting, Tusk would be followed by Yoga Hosers (which Smith wants to make next, and be PG-13) and a new movie called Moose Jaws which he described as "Jaws, with a moose." All three films would return the same actors as Tusk. Read more about the Kevin Smith True North Trilogy below
During the panel, Smith told his fans that while writing the still in-development Hit Somebody miniseries, he got very deep into Canadian lore and history. He couldn't use a lot of it in his hockey story but he let it influence Tusk. The Canadian mythology and setting helped flush out Smith's original story idea, based on a podcast about a man who wanted someone to live with him and dress as a walrus. Tusk hits theaters in September.
Smith's next film, Yoga Hosers, is a bit more mysterious at the moment. He talked like it was going to shoot next and maybe be be ready for release next year. And though the film was spawned by an odd story of theft among yoga enthusiasts, that seems to not be the focus at all. Smith said he was hoping to make Yoga Hosers his second PG-13 movie (the first being Jersey Girl) because it stars two 15-year-old girls as the main characters. In the film, they'll battle people with superpowers. Or maybe have superpowers. It wasn't exactly clear. But Smith said he would be "run out of the country" once we heard what the powers in the movie were.
Then there's Moose Jaws. The only thing Smith said beyond the premise is that it featured a scene of the killer moose chowing down on a little girl. So it sounds like some kind of exploitation horror.
Finally, Smith mentioned he still hopes to make Clerks 3 in 2015. So with the True North Trilogy, his Krampus movie Anti-Klaus and Clerks 3, Smith is either going to be very busy for the next few years, or is just overly ambitious. Probably a bit of both.