Star Trek/Planet Of The Apes Crossover Announced By Boom Studios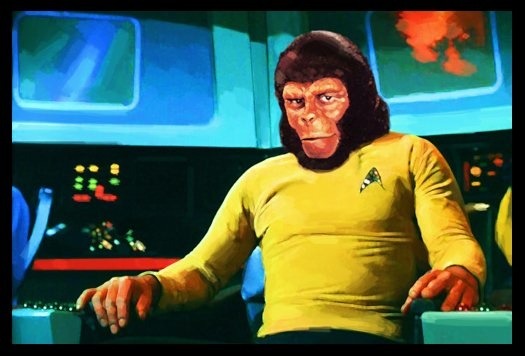 Boom Studios has announced a Star Trek Planet of the Apes crossover at 2014 Comic Con. The comic book crossover will pair the original U.S.S. Enterprise crew with Taylor, Nova and the cast from the original Planet of the Apes film. As for the plot, here is a quick tease:
"With the Klingons secretly backing a renegade gorilla general in a coup for control of Ape City, Captain Kirk finds himself in the uncomfortable position of having to help out Dr. Zaius' orangutans"
Read the full press release after the jump and check out the full cover for the Star Trek Planet of the Apes crossover comic book.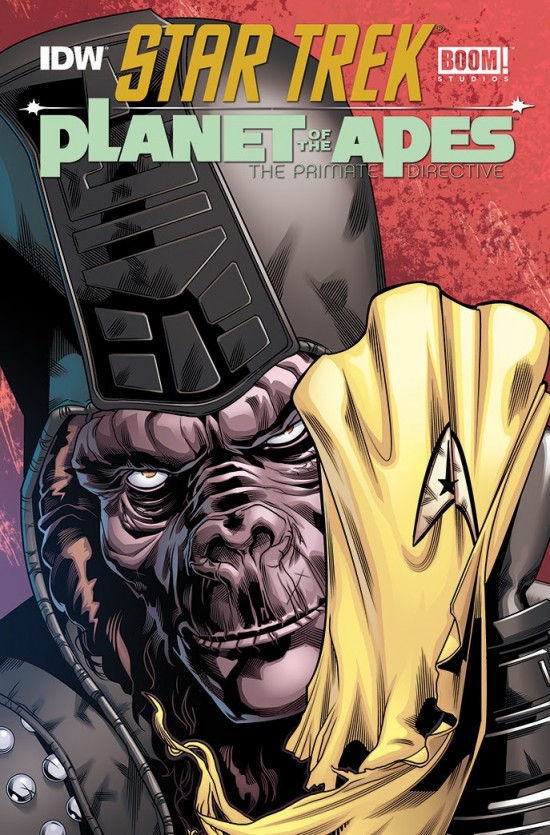 Star Trek™ Meets Planet Of The Apes!
IDW Publishing Partners With Boom! Studios For Epic Crossover
San Diego, CA (July 25, 2014) – Have you ever wondered what it would be like to "mind-meld" with a sentient ape? Or wanted to see a Klingon on horseback, brandishing a rifle? Readers will soon have a chance to peek into just such an alternate future, as IDW Publishing partners with BOOM! Studios for the crossover event of the year: Star Trek/Planet of the Apes.
IDW will publish the crossover, which will mark the first time BOOM! Studios has partnered with another publisher on a series. Together they will bring Star Trek, licensed by CBS Consumer Products, and 20th Century Fox's Planet of the Apes together in a way that is sure to delight existing fans and make new ones. The series will pair the original U.S.S. Enterprise crew with Taylor, Nova and the cast from the original Planet of the Apes film.
"Planet of the Apes and Star Trek are groundbreaking science-fiction properties and both deal with many of the same social issues and themes," says Greg Goldstein IDW President & Chief Operating Officer. "A crossover between the two is a natural and long overdue."
"Before I could read comic books as a child, I could watch science fiction on my television. My dad used to wake me up way past my bedtime to watch Star Trek in syndication—it came on after the nightly news—and I took a Planet of the Apes lunchbox with me to kindergarten every day," says BOOM! Studios Founder and CEO Ross Richie. "Suffice to say, teaming up these two titans of science fiction on the page in a way that they probably will never meet each other on the silver screen is a huge moment for me personally and emotionally."
The creative team will be a mix of proven experience and new blood with scripts by beloved Star Trek scribes Scott and David Tipton (Star Trek: The Next Generation/Doctor Who: Assimilation 2) and interior art and covers by the British newcomer Rachael Stott.
"With the Klingons secretly backing a renegade gorilla general in a coup for control of Ape City, Captain Kirk finds himself in the uncomfortable position of having to help out Dr. Zaius' orangutans," explains David Tipton. "Taylor won't be happy with that!"
"What an epic pairing! I'm so excited to see Taylor, Kirk...and those damned dirty apes...in our upcoming comic," says IDW editor Sarah Gaydos, "We're eager to team up these exciting creative forces to bring this to life."
™ & ©2014 CBS Studios Inc. STAR TREK and related marks and logos are trademarks of CBS Studios Inc. All Rights Reserved.
About BOOM! Studios
Founded by Ross Richie in 2005, Diamond Gem Award-winning "Best Publisher" BOOM! Studios (boom-studios.com) generates a constellation of best-selling Eisner and Harvey Award-winning original and licensed comic books and graphic novels with the industry's top talent. BOOM! Studios is the home of Mike Carey's SUICIDE RISK, Clive Barker's NEXT TESTAMENT and HELLRAISER, Paul Jenkins and Humberto Ramos' FAIRY QUEST, PLANET OF THE APES, Max Bemis' POLARITY and Mark Waid's IRREDEEMABLE. Steven Grant's graphic novel 2 GUNS was recently released as a feature film from Universal Pictures, starring Denzel Washington and Mark Wahlberg. BOOM!'s all-ages imprint KaBOOM! publishes Charles Schulz' PEANUTS, Jim Davis' GARFIELD, Cartoon Network's ADVENTURE TIME and REGULAR SHOW, Mike Kunkel's HEROBEAR AND THE KID, and Roger Langridge's Eisner Award-winning SNARKED. In June 2013, BOOM! acquired Archaia Entertainment (archaia.com). Archaia is the Eisner and Harvey Award-winning graphic novel publisher of MOUSE GUARD, COW BOY, GUNNERKRIGG COURT, RUST, SPERA, JIM HENSON'S TALE OF SAND, and many other great titles. In October 2013, BOOM! Studios entered into a unique first-look relationship with 20th Century Fox, giving the studio access to its library of titles and giving the publisher access to Fox's vast catalog of films.
About Twentieth Century Fox Consumer Products
A division of 21st Century Fox and recognized industry leader, Twentieth Century Fox Consumer Products licenses and markets properties worldwide on behalf of Twentieth Century Fox Film Corporation, Twentieth Century Fox Television and Fox Broadcasting Company, as well as third party lines. The division is aligned with Twentieth Century Fox Television, the flagship studio leading the industry in supplying award-winning and blockbuster primetime television programming and entertainment content.
About IDW Publishing
IDW is an award-winning publisher of comic books, graphic novels and trade paperbacks, based in San Diego, California. Renowned for its diverse catalog of licensed and independent titles, IDW publishes some of the most successful and popular titles in the industry, including: Hasbro's The TRANSFORMERS, G.I. JOE and MY LITTLE PONY; Paramount's Star Trek; Nickelodeon's Teenage Mutant Ninja Turtles; 2000AD's Judge Dredd; The Rocketeer; Toho's Godzilla; Wizards of the Coast's Magic: The Gathering and Dungeons & Dragons; V-Wars from New York Times best-selling author Jonathan Maberry; Ragnarök from Eisner Award-winner Walter Simonson; Winterworld, created by Chuck Dixon and Jorge Zaffino; and Little Nemo from the award-winning duo of Eric Shanower and Gabriel Rodriguez. IDW is also home to the Library of American Comics imprint, which publishes classic comic reprints, Yoe! Books, a partnership with Yoe! Studio, and the multiple award-winning Artist's Edition imprint.
IDW's critically- and fan-acclaimed series are continually moving into new mediums. Currently, Jerry Bruckheimer Films and Disney are creating a feature film based on World War Robot; Dwayne "The Rock" Johnson and Warner Brothers are producing a film based on Ashley Wood's Lore; Michael Bay's Platinum Dunes and Sony are bringing Zombies vs. Robots to film, Kurtzman/Orci are producing a movie based on Locke & Key at Universal.
Header image from Jimsmash.