Joaquin Phoenix In Final Talks For 'Doctor Strange' [Updated]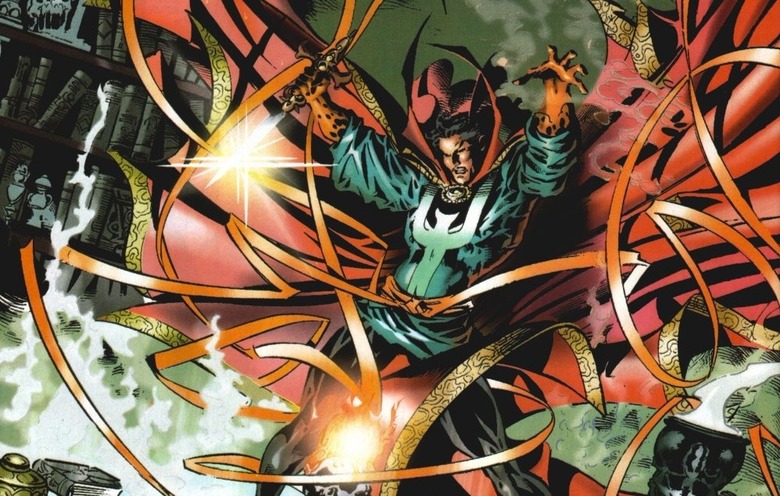 Rumors about who might play Doctor Strange have been swirling for years now, involving everyone from Justin Theroux to Benedict Cumberbatch. But as Phase Three draws near, it's time for Marvel to zero in on some serious contenders. And today, we've heard that their top pick is none other than Joaquin Phoenix. Hit the jump to get the dirt on Doctor Strange Joaquin Phoenix.
Update: Sites such as THR and Deadline are now saying that Phoenix is beyond the offer stage and into actual talks for the role. Phoenix has yet to accept the role, but things are moving forward.
Update 2: On August 28, Collider reports that Phoenix is in final talks for the part.
Original story follows.
From July 25:
TheWrap reports that while Phoenix has yet to close a deal, he's gotten as far as having discussions about the film. He has even been spotted buying Doctor Strange comics in New England, where he is shooting Woody Allen's latest movie. Scott Derrickson is directing Doctor Strange from a script by Jon Spaihts.
Theroux, Cumberbatch, Tom Hardy, and Jared Leto have all been rumored for the part in recent days, but in each case there is some significant obstacle keeping them from the role. Both Cumberbatch and Hardy have scheduling conflicts, Theroux is tied up with HBO's The Leftovers, and Leto has plans to direct.
A big-budget superhero movie would be an unusual move for Phoenix, who mostly favors auteur-driven indies. However, he has demonstrated some interest in mixing things up. He was offered the Lex Luthor role in Batman v Superman: Dawn of Justice, though he ultimately turned down the part.
Moreover, TheWrap indicates that Phoenix might get a shorter contract than the long-term multi-picture deal that other Marvel actors have been locked into. The studio reportedly wants a big-name actor for the role because Doctor Strange isn't as well known as some of the other comic book heroes in the Marvel Cinematic Universe.
Update on August 28: The new report says that Phoenix is essentially at the one-yard line with the dealmaking. That's not final, however, and given Phoenix's detail-obsessive nature, things could still break down. We're told the company wanted to announce casting for Strange at Comic Con, but that the deal couldn't be hammered out. Now, a month later, they're almost there, but not done yet.
The question in the end will be about the precise nature of the contract between Phoenix and Marvel. How many films will he sign for? As developments in the Marvel Cinematic Universe move towards a battle with Thanos, will Doctor Strange play the same role in that fight on film that he took in comics pages?
We'll update if and when Marvel announces a final deal.