New 'Avengers: Age Of Ultron' Image Features Black Widow With Captain America's Shield [Comic Con 2014]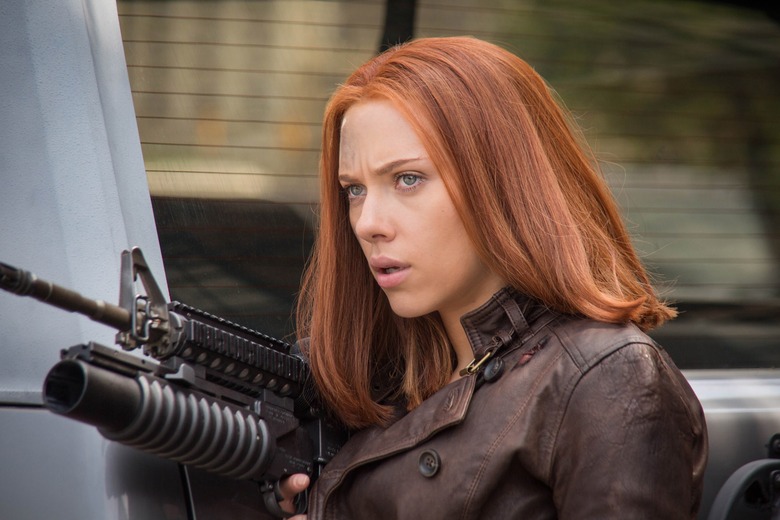 In addition to all the awesome Avengers: Age of Ultron concept art coming out at Comic-Con, and before Marvel presents their own panel, Harley Davidson is getting into the Avengers action. Harley has revealed a brand-new still from the film featuring Black Widow (Scarlett Johansson) on her new electric Harley. But, in a cool twist, she's holding Captain America's shield. Check out the Avengers Age of Ultron motorcycle below and read more about it
Here's the new Avengers: Age of Ultron image: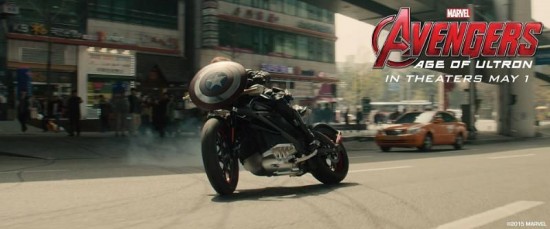 And here's the full press release on its significance:
Today at the San Diego Comic-Con, Harley-Davidson® and Marvel Studios will introduce Project LiveWire™ – Harley-Davidson's first electric motorcycle – to fans gathered at the annual international convention. Project LiveWire, which is featured in Marvel's Avengers: Age of Ultron, will be the ride of choice for Natasha Romanoff (a.k.a. Black Widow) played by Scarlett Johansson, in an epic scene with Captain America in the film.
The addition of Project LiveWire to Avengers: Age of Ultron confirms months of speculation that Harley-Davidson and Marvel are, indeed, teaming up again. Harley-Davidson motorcycles – including the Harley-Davidson Street 750™ featured in Marvel's Captain America: The Winter Soldier earlier this year – have appeared in a number of Marvel movies and television shows over the last several years.
"Our partnership with Marvel continues to provide thrilling platforms to showcase our latest innovations to existing and new fans of the brand," said Dino Bernacchi, Director of U.S. Marketing at Harley-Davidson Motor Company. "Not one, but two bikes will be featured in Avengers: Age of Ultron – Project LiveWire and the all-new Street 750, which is now available at Harley-Davidson dealerships."
While not for sale, Project LiveWire is specifically designed to get insight into rider expectations of an electric Harley-Davidson motorcycle. In keeping with the company's customer-led product development approach, Harley-Davidson is taking Project LiveWire to consumers across the country. Fans in San Diego will be able to ride the bike at the San Diego Harley-Davison dealership July 25-26 and provide feedback to help shape the future of Harley-Davidson's first-ever electric motorcycle.
Followed by a video: