Christopher Nolan And Matthew McConaughey Discuss 'Interstellar' At Comic Con 2014; Watch Full Panel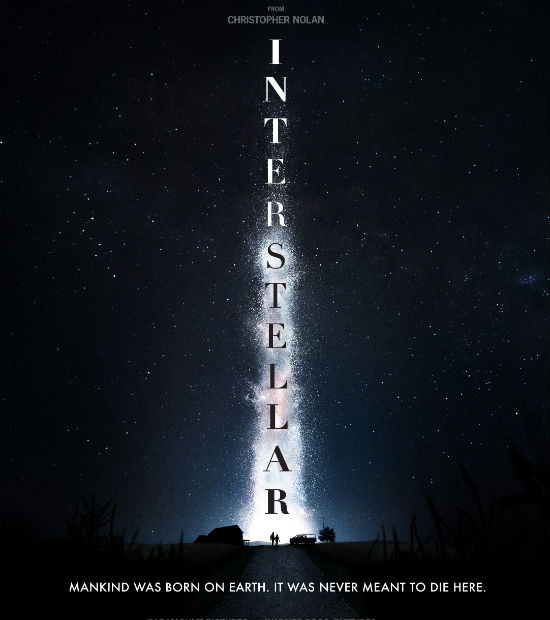 Paramount brought two Comic Con newbies to Hall H today: Matthew McConaughey and Christopher Nolan, and the pair also brought along a new trailer for their upcoming film Interstellar. The film explores an Earth which has been decimated by climate change, and from which a small group adventures out into the universe, in search of answers to our problems.
The elements were all introduced in stages: the moderator, Entertainment Weekly editor Matt Bean, brought McConaughey out. The actor talked about his first conversations with Nolan, and described his own character before shying away from telling more about the movie. He introduced the director, who spoke for a few minutes and answered questions from the moderator. Finally, Nolan introduced the new trailer for the film. (Read about that here.) Below, you'll find the meat of the conversation between the three men.
UPDATED: Now you can watch the full Christopher Nolan Comic Con panel.
Here's the full panel discussion:
Christopher Nolan Comic Con
McConaughey was genial but commanding; the star power of any given actor can really be tested when they're on a stage in front of a few thousand people, and McConaughey looked natural and totally at ease as he gazed back at the Hall H crowd.
To open things up, McConaughey described his first meeting with Christopher Nolan:
I got a call saying that Christopher Nolan's got a new film coming out, and he'd like to meet you. So I fly to California, and we meet at Nolan's house. We talk for three hours, and didn't say one word about any film; it was just he and I talking. Evidently he liked meeting me, and I liked meeting him. A week later a script came, I read it, I liked it, I was in.
The actor described his character Cooper as a pilot, engineer, and father of two. He's living in a world where the primary endeavors are about sustaining — growing food and finding clean water. There's no exploration; we're very Earthbound. There are "no new bright ideas." And then "something happens where that dream of being a pilot knocks on his door." Cooper gets to embark upon one of the greatest missions mankind has ever undertaken. But he has to leave family, his two kids.
Asked about his vision of Nolan, McConaughey said "Christopher is always out for original; everything he wants to do has to be original." He talked of great ideas that might inspire Nolan, but those are things he "will appreciate but not repeat."
He also praised Nolan's working methods, explaining that when he gets to set Nolan has fully conceived the world already, and that he shoots very fast. It's almost an independent sort of production, McConaughey said, with just two or three takes before moving on. And he called the director "a man whose reach constantly exceeds his grasp," especially with Interstellar, which is "by far the most ambitious film Mr. Nolan has ever directed."
Introduced by McConaughey, Nolan was quiet and soft-spoken. He's difficult to read, but appeared to be a bit tickled by the spectacle of Comic Con. Because there was little expectation that Paramount would surprise people, Hall H was far less packed than it will likely be later in the weekend, so he didn't even get the full experience.
Asked why he wanted to make Interstellar now, Nolan explained that he's "always been a huge fan of science fiction," and that he "grew up being amazed by the sci-fi of the past" such as Star Wars and 2001. "But more than that, I grew up in an era when to be an astronaut was the highest ambition of any child." He misses the idea that we would keep exploring and pushing further and further out into the galaxy. "I hope we're on the cusp of a brand new era looking outwards," Nolan said. 
Questioned on technology for the film, he said "we've done a lot different things trying to create the reality of this space mission," and while he declined to name much in terms of specifics, Nolan did say "really the driving force is trying to keep as much reality for the actors as possible." So there are perhaps more windows in the craft than might be the case in real life, for McConaughey and other actors to see their journey. "The thrill of trying to make a large-scale film about journeying through the stars is about taking the audience with us."
Nolan talked about working with physicist Kip Thorne, on the script, noting that "there were a lot of very intense conversations with somebody who is much better informed than me. It actually made my head hurt a bit.
Asked about other sci-fi influences, Nolan almost joked: 
I dot want to provide too complete a list, because when you see the film you'll see all the things I ripped off. I'm not joking when I say that. ... The single biggest influence will probably have to be 2001. We really had an ambition with this film, not to do what 2001 did, but to tell a similarly ambitious story in score and scale. I want kids to go with their parents and see that type of scale on screen. That's my ambition.
Queried about the frequent presence of psychology as an influence on his films, the director said "I wouldn't say that it was necessarily that conscious an idea, but some clever psychologist could probably explain why." Continuing, he explained "the truth is, I'm interested in people, and subjectivity versus objectivity. We're often imprisoned in our own perceptions."
Interstellar opens on November 7.