Full 'Avengers: Age Of Ultron' Concept Art Poster Revealed [Comic Con 2014]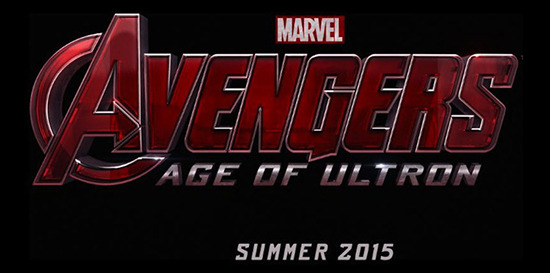 Update from editor Peter Sciretta: Marvel has released the final two character posters, completing the image and bringing the total up to eight. One of these new ones features a character we haven't seen yet: Vision. He's not front and center in the poster that does feature him, but we see enough to know that it is a pretty classic rendition of the character's look.
Marvel Studios often drops concept art for its movies as posters at Comic Con, and this year is no different. The studio has released the first two of what will obviously be a series of posters featuring concept art from Avengers: Age of Ultron. Today's posters show Iron Man and Scarlet Witch doing battle against a horde of Ultron replicas.  They're by two different artists, Ryan Meinerding (Iron Man) and Andy Park (Scarlet Witch). We'll update with additional posters in the Avengers 2 concept art collection as they become available.
Here's an assembled Avengers concept art lineup, based on what we have so far: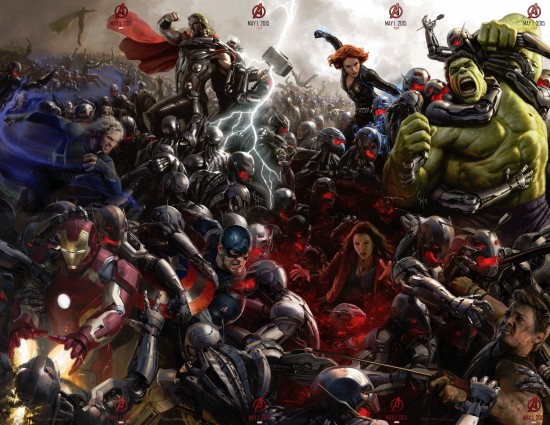 And this is a breakout of the part featuring Vision: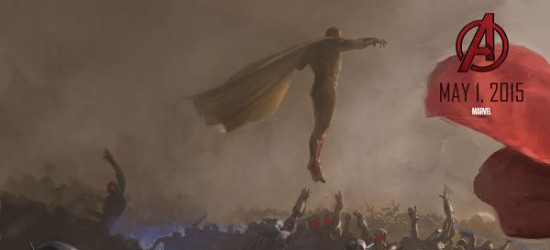 Marvel.com has the images.
Avengers: Age of Ultron opens on May 1, 2015. It features Robert Downey Jr., Mark Ruffalo, Chris Evans, Chris Hemsworth, Samuel L. Jackson, Scarlett Johansson, Jeremy Renner, Aaron Taylor-Johnson, Elizabeth Olsen, Don Cheadle, James Spader, Cobie Smulders, Thomas Kretschmann, Paul Bettany, Kim Soo Hyun, Hayley Atwell, Josh Brolin, and Andy Serkis.
There's no official synopsis as yet, but EW recently published the following description of the plot, which serves pretty well.
For better or worse (trust us, it's worse), his Tony Stark has devised a plan that won't require him to put on the Iron Man suit anymore, and should allow Captain America, Thor, Black Widow, Hawkeye, and the Hulk to get some much needed R&R as well. His solution is Ultron, self-aware, self-teaching, artificial intelligence designed to help assess threats, and direct Stark's Iron Legion of drones to battle evildoers instead.
The only problem? Ultron (played by James Spader through performance-capture technology) lacks the human touch, and his superior intellect quickly determines that life on Earth would go a lot smoother if he just got rid of Public Enemy No. 1: Human beings. "Ultron sees the big picture and he goes, 'Okay, we need radical change, which will be violent and appalling, in order to make everything better'; he's not just going 'Muhaha, soon I'll rule!'" Whedon says, rubbing his hands together.