Neill Blomkamp's 'Chappie' Poster Is At Comic-Con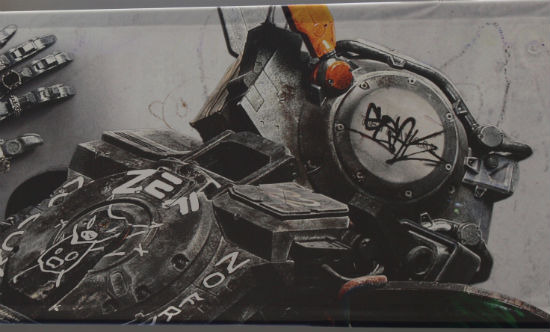 Neill Blomkamp's next film, Chappie, doesn't have a panel at San Diego Comic-Con, but if this year is proving anything, it's that panels aren't the only way to raise awareness for a project. Sometimes something as simple as an evocative poster will do the trick. That's exactly what Sony used in the case of Chappie, which stars Hugh Jackman, Sigourney Weaver and Sharlto Copley. Check out the first Chappie poster below.
Thanks to Collider for these images. The poster/banner is apparently massive, so it's broken down into a few sections.
Chappie poster
See more images at the above link.
Scheduled for release March 6, Chappie is about a boy who is kidnapped and later adopted by a loving family. They realize he's incredibly gifted and smart. The only problem is, he's a robot. The above banner really gets that point across in an interesting way, don't you agree?