Watch James Franco's 'Blood Meridian' Test Reel, With Mark Pellegrino As The Judge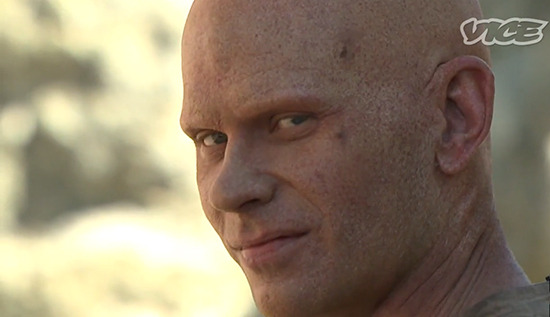 James Franco directed an adaption of the Cormac McCarthy novel Child of God, which opens in some theaters on August 1. But Franco also wanted to adapt McCarthy's novel Blood Meridian, and even Franco admits the book seems like an "un-filmable" novel. That didn't stop him from trying, and a few years ago Franco shot a test reel for the project. This 25-minute reel features characters from the novel that fans will very much recognize. Notably, the Judge appears, played by Mark Pellegrino. The Kid is played by Dave Franco, and Scott Glen and Luke Perry show up, too, as Tobin and Glanton.
This is very much a test reel — a rough edit, and lacking any polished sound mix — but it's interesting to see Franco explore this particular sequence at length. If this was ever made as a traditional feature, this whole sequence would likely be condensed in a significant fashion. Additionally, the cast here may not have ended up in the feature. Note to anyone unfamiliar with Blood Meridian: this is not safe for work.
We'd heard before that this test existed, and that Pellegrino played the Judge. The character is a near-mythic presence in the novel — a seven-foot tall figure who exerts an almost demonic influence on the people around him. It's a very difficult role to capture, for an actor, and a director. Getting to see the reel makes for a neat experience, but it probably isn't going to satisfy readers who want to see the character appear in all his malevolent glory.
Franco explained the reel to Vice:
In honor of "Child of God's" release on August 1st, I'm posting a 25-minute test I did for the film version of Blood Meridian. Blood Meridian by Cormac McCarthy is my favorite novel. It marks the midpoint of his career, between the Southern Gothic stories of his Tennessee days (he grew up in Tennessee and went to the high school with painter Josh Smith) and his later border-based stories (The Border Trilogy, No Country for Old Men, The Road) after he moved to Texas and then to New Mexico.
In some ways Blood seems un-filmable. It is almost Biblical in its lapidary. His terse prose utilizes vocabulary only found in the crannies of annals of the Old West and the specialized spheres of working men. He captures the slang of forgotten peoples so deftly, it's as if they were his barroom friends.
I made my test for Blood Meridian three or four years ago. It stars Scott Glen, Luke Perry, Mark Pellegrino (Lost), and my brother, Dave. We shot it in three days in some place near Yosemite that is the Mule Capital of the world. If you know the book, you'll recognize that this is the sequence where Tobin recounts how the Glanton gang met the Judge, a Satan-like character and Glanton's right-hand man. The gang was out of gunpowder and about to be caught by Apache warriors, whereupon they would be killed for lack of working weaponry. Enjoy.