Cool Stuff: Mondo Does Collectible Toys Starting With 'The Iron Giant,' Ninja Turtles & Hitchcock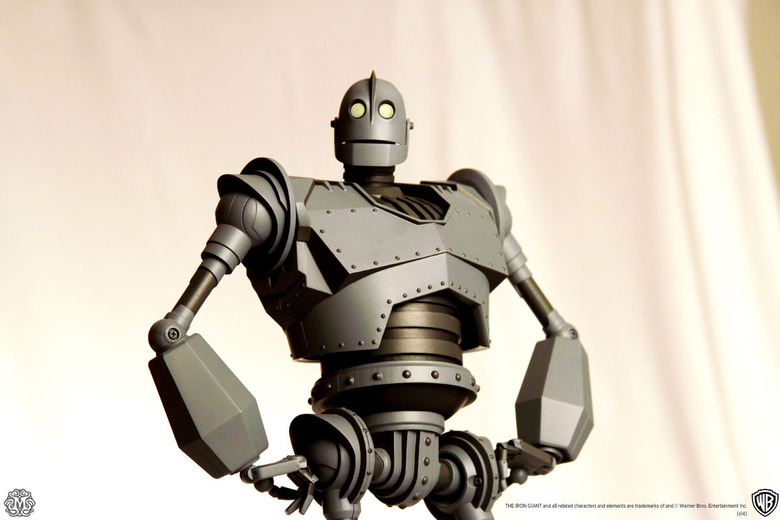 The next few days are going to be filled with more "Cool Stuff" posts than usual because of the awesome items hitting the floor at San Diego Comic-Con. You've probably already seen this Jurassic World poster, Marvel's cool hoodies and more, but we've yet to hear much from Mondo. That's going to change. At the convention they're finally revealing something that has been teased for a few months. The company is getting into toys.
Starting later this year, Mondo will begin releasing officially licensed toys based on popular properties. They're kicking it off with an official license for The Iron Giant (a property that has been something that has been illusive to collectors for years) as well as some new Teenage Mutant Ninja Turtles stuff as well as Alfred Hitchcock. Read more and see images of the Mondo Iron Giant toys below.
Here are multiple images of The Iron Giant and one of Mike Mitchell's "Lil' Mikey." Both of these, and more, will be on display at San Diego Comic-Con with pre-orders taking place later this summer, with the hopes of having them to fans by December.
Here's the full press release with tons more info. For more, read the USA Today article and follow @MondoNews.
Mondo is doing toys! The launch of figures for The Iron Giant, Teenage Mutant Ninja Turtles and Alfred Hitchcock are Mondo's first foray into toy collectibles, with the subjects and diversity of design reflecting Mondo's unique passions. The initial offerings include replicas as well as toys from artist-based designs, which can be previewed at San Diego Comic-Con in Mondo's booth (#835).
Toys join Mondo's growing list of pop culture passions in posters, vinyl, gallery events, VHS and apparel. "I am so pumped to announce toys! We've been working on this in secrecy for a year and now it's time to let you guys know about it. We'll be focusing on existing properties that we love as well as working with artists to bring their own creations to life. This is a new area for us, but I resist the term 'expansion' since the goal for Mondo has always been to be a place where artists and designers can work to have their visions realized, whether that's through posters, gallery shows, vinyl, apparel or now toys," said Mondo CEO Justin Ishmael.
THE IRON GIANT
Celebrating its 15th anniversary, The Iron Giant has reaped praise as being among the greatest animated films ever made (recently ranked #7 on Time Out's 100 Best Animated Movies list) and it was important for Mondo to honor the film with an appropriately stunning collectible.
The Iron Giant Collectible Figure
The 16" tall figure will have over 30 points of articulation, light features, and other fun surprises! Accompanying The Iron Giant will be a Hogarth figure, scraps of metal for him to munch on and a Seafood sign that has a removable "S" to put on his chest. He will also include an interchangeable head and gun attachment, giving a choice of displaying the figure as the regular version, or the "War" version! The figure was designed from the actual CG files used in the film, for ultimate accuracy. 
The Iron Giant Bolt Replica
The Iron Giant Bolt is a life-sized replica of the wayward flashing piece of The Iron Giant, as seen in the film. 6" in length, with a flashing light feature, and authentic details from the film, it's the perfect-sized piece to display at home, and to show that there's always hope in the end.
TEENAGE MUTANT NINJA TURTLES
The First Turtle Vinyl Figure
This vinyl figure is based off of Teenage Mutant Ninja Turtles creator Kevin Eastman'svery first drawing of a "Ninja Turtle," which formed the basis of the popular comic. Struggling artists Kevin Eastman and Peter Laird came up with the Turtles in November 1983 while living in North Hampton, Massachusetts and the spark came from this drawing, which Eastman drew initially as a joke featuring a bi-pedal turtle with nunchucks and a mask. The figure stands 6" tall, and features a classic black and white paint design, based on the original art!
Lil Mikey Vinyl Figure
This will be Mondo's first toy based on a design from an artist that they work with frequently. Mike Mitchell has a series of pop culture characters called "Just Like Us" and this toy is based on his design in that series for Michelangelo. Turtle fans and people of a particular age will note the accuracy of the real TMNT ice cream on a popsicle stick.
The "Lil Mikey" figure reflects Mondo's goal to have many of its toys based on artist designs in addition to replicas.
"If I had $5 when I was a kid, it was going to be spent on a ninja turtle figure. So much of my childhood was defined by TMNT, I watched every episode, I had the toys, the shirts, the games, the comics. I wish I could say "Lil Mikey" was a dream come true, but I never could have fathomed this happening. I am so extremely excited about this figure, and I can't wait to show it off at SDCC," said artist Mike Mitchell. 
HITCHCOCK 1/6 Scale figure
The worlds most famous director is immortalized in this 1/6 scale figure, which features an authentic likeness, his directors chair, clapboard, cigars, as well as props from his most famous films- a butcher knife, a raven, and a seagull! He also features a fine-tailored suit, several interchangeable hands, and a figure stand.