Cool Stuff: The Dark Knight Tumbler Lego Out September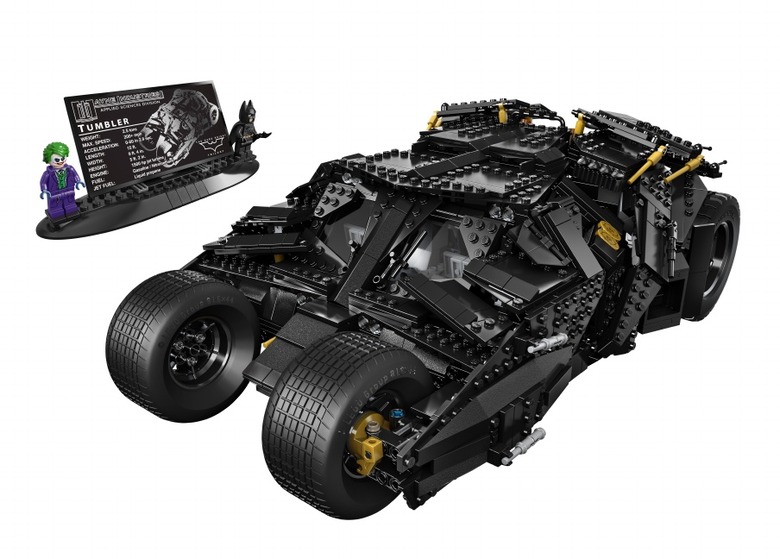 Outside of Heath Ledger's Oscar-winning performance, arguably the most iconic addition to the Batman universe thanks to Christopher Nolan's Dark Knight Trilogy was the Tumbler. The way Nolan created a functional, realistic Batmobile and continued to evolve it over the course of three films was just beyond cool. It was one of those things fans and non-fans alike wanted to own when they walked out of the movie. And while The Dark Knight Tumbler has been available in various different ways, it's finally getting an Ultimate Collector's Edition Lego.
Below, see images of the Ultimate Collectors Edition Dark Knight Tumbler Lego.
Lego will premiere the Dark Knight Tumbler Lego at San Diego Comic-Con, before releasing it September 1. It contains 1869 pieces and costs $199. Here are some images via USA Today.
The Dark Knight Tumbler Lego
And a video from the company.
Here are the specifics from the Lego website. Head there for more.
Take on the challenge of building The Tumbler, an amazingly cool LEGO® model of the iconic vehicle from the Batman™ The Dark Knight Trilogy. Construct this black armored vehicle highlighted with new color LEGO® elements and brand new LEGO front wheels. Check out the cool, detailed interior and adjustable top wings. Includes 2 new and exclusive minifigures: Batman™ and The Joker.
Includes 2 minifigures: Batman and The Joker
Features an armored exterior, adjustable top wings, detailed interior and huge rubber-tread racing tires
Batman and The Joker minifigures are new and exclusive to this set!
Model includes new LEGO® front wheels
Includes a fact sheet about the Tumbler vehicle used in The Dark Knight Trilogy movies featuring Batman™
Tumbler measures over 5" (15cm) high, 15" (40cm) long and 9" (24cm) wide
That, my friends, is an amazing set, sure to be at the top of wish lists for Lego fans for the next few years. Do you think you'll be ordering this one?